Sunday, 20 January 2013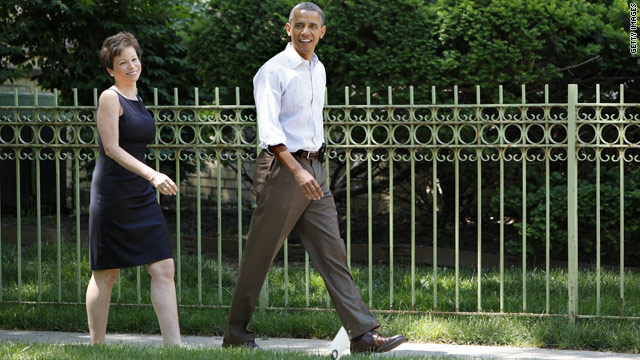 January 20th, 2013
(CNN) - As President Barack Obama prepared to be sworn in on inauguration weekend, the White House continued to promise diversity as the president formulates his second term Cabinet.
"His Cabinet when he's finished - and he's far from finished - will have diversity including women, including people of color," Obama senior adviser Valerie Jarrett told CNN's chief national correspondent John King and chief political analyst Gloria Borger from the White House shortly before Obama took the Oath of Office. [Should we care? Why? What about among those providing "diversity of perspectives" including someone who thinks the 1965 Immigration Act should be repealed? Or someone who thinks that "diversity" should not be a goal of government?]]
The president has come under fire for, thus far, nominating mostly white men to cabinet positions. A White House released photo of Obama meeting with advisers, mostly white men, drew further criticism when it ran in the New York Times. The White House released another photo of the president meeting with a more diverse group of staffers.
One of his most trusted aides, Jarrett said in this case "One picture does not speak a thousand words."
"He believes he makes his best decisions when he is surrounded by people who have different perspectives and give him their best ideas," she said. "I spent a lot of time in the Oval Office and I'm in there with a great number of women who he listens to and whose council and advice he trusts greatly." [How different in "perspective" on the meaning, and menace, of Islam are John Brennan, Chuck Hagel, and John Kerry?]
"The president has been surrounded by strong women throughout his entire life; raised by a single mom; lived for a while with his grandmother who was a great role model for him, obviously married to a very competent wife and his first Cabinet reflected the diversity of our country," she said.
Jarrett pointed to both Nancy-Ann DeParle, Obama's deputy chief of staff, who helped craft the president's signature healthcare initiative in his first term and Health and Human Services Secretary Kathleen Sebelius, in charge of the Affordable Care Act's implementation in the president's second term, as examples of women taking on major roles within the administration.
Since winning re-election Obama has made a number of high-profile nominations for cabinet posts, including Massachusetts Sen. John Kerry for secretary of state to replace Hillary Clinton who has said she will leave her post in the administration.
Originally, U.S. Ambassador to the United Nations Susan Rice was considered a favorite for the position but withdrew her name following intense criticism for her initial comments on the handling of the September attack on the U.S. mission in Benghazi, Libya.
Former Sen. Chuck Hagel has been tapped for secretary of defense, White House Chief of Staff Jack Lew has been nominated to be secretary of the treasury and chief counterterrorism adviser John Brennan is Obama's choice to head the C.I.A. All three of these positions were headed by men in Obama's last term.
Posted on 01/20/2013 12:32 PM by Hugh Fitzgerald
Comments
20 Jan 2013
jewdog
  Diversity should be measured by differences in ideology, not biology. Obama's cabinet are a bunch of knee-jerk moonbats whose views have not made the transition to the current challenge of Islam.

Join leaders of the American Middle Eastern community to endorse
Donald J. Trump
for President of the United States

and spend an evening with his foreign policy advisors featuring
Dr. Walid Phares
and other surprise campaign guests.

Monday October 17th

Omni Shoreham Hotel
2500 Calvert Street Northwest
Washington, DC 20008

cocktails at 6pm - dinner at 7pm
Business casual attire

$150 per person / $1500 per table

Sponsored by the American Mideast Coalition for Trump


Most Recent posts at The Iconoclast