Monday, 1 May 2006
This weekend is a Bank Holiday, so it lasts three days. For some this means DIY, Spring cleaning or self-improvement, or worse still "fun for all the family". For me it means two days of unspecified enjoyment, followed by one day's delicious idleness contemplating the weekend just enjoyed. Today is the day of idleness, starting just before noon. (Anybody who gets up before noon when they don't need to is stark staring bonkers in my view.) Following a leisurely breakfast, crossword and sudoku, the afternoon will be spent pottering about and the evening watching television. Any time I can spare from this demanding schedule, will be given over to an activity celebrated on a website I discovered just now: A nice cup of tea and a sit down.
This website has a delightful mission statement. Yes, that is not an oxymoron. The website really does have a delightful mission statement:
Well I think we should all sit down and have a nice cup of tea, and some biscuits, nice ones mind you. Oh and some cake would be nice as well. Lovely.
The site is divided into sections: tea, biscuits and cake. Very little is said about tea, although updates are promised:
Tea drinkers don't tend to have moderate and liberal views on tea. We all like it the way we like it, whichever way that may be. I'm not about to come up with something as quickly doomed to failure as a pronouncement on how to make the perfect cup of tea. If you've ever made a cup of tea for somebody else chances are that they then politely complained about it being too weak, too strong, too milky or in the wrong sort of cup. You'll know that when it comes to tea one size does not fit all. So its not the recipe for the perfect cup of tea that I'll be discussing but some of the obstacles that get placed in our personal paths to it.
It is in the biscuit section that the authors' passion – and the spirit of Nelson - really shows:
Biscuit comes from the French meaning twice-cooked but don't let that put you off, as the French don't really have a clue about making decent biscuits. Those dreadful Petit Beurre things that they knock out are really nasty. They sound like they are going to be really nice, like some sort of little buttery thing, but they're not. I've seen some where they put a big slab of chocolate on the top in an attempt to make them nice but it was all a bit wrong…
Half way between biscuits and chocolate bars, are the chocolate covered biscuits. A bit of a grey area but this is where we encounter individual foil wraps, and strange quasi cake, biscuit hybrids like the Waggon Wheel. Also the home of the Jacobs Club biscuit, although this is a sad shadow of its former self thanks to the French again.
Up-to-the minute news is available from the "fast-moving world of tea and sit downs". For example, Burtons have been tinkering with Jammie Dodgers, and not for the first time: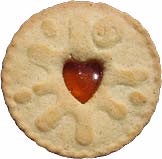 The outrage began as soon as we opened the very orange pack. Small pimples of jam from the heart shaped holes were sticking to the inside top of the pack or the biscuits above. Actually the outrage soon gave way to mild satisfaction as I decided it simply meant they had a lot of jam in them. The dislodged jammy pimples tasted very similar to a Rowntrees Orange Jelly so things looked good.
Biting in, however, revealed the true outrage. The orange flavour was almost completely drowned out by the JD's trusty and distinctive shortcake. Oh well at least we can console ourselves with the fact that this has to be the clearest jam Burton's have ever used and affords exciting never before seen trans-jam views of the inside of a Jammie Dodger.
I believe Americans call biscuits "cookies". This is an Americanism - they use those all the time - and is, of course, incorrect.
Posted on 05/01/2006 7:12 AM by Mary Jackson
Comments
1 May 2006
drunkenblogging
I am trying to work out if all this stuff about biscuits is really code... Or maybe you are just talking about biscuits.
1 May 2006
Esmerelda Weatherwax
Orange flavoured jammie dodgers?
Did they learn nothing from the vanilla flavoured jammie dodger debacle?
Hands off sprogface's favourite biscuit!


1 May 2006
Mary Jackson
I quite like to get my tongue round a couple of ginger nuts.
5 May 2006
john utting
well,as long as you are not talking about chris evans.by the way the yanks call them cookies cos they come out of a cookie jar.lol john

Join leaders of the American Middle Eastern community to endorse
Donald J. Trump
for President of the United States

and spend an evening with his foreign policy advisors featuring
Dr. Walid Phares
and other surprise campaign guests.

Monday October 17th

Omni Shoreham Hotel
2500 Calvert Street Northwest
Washington, DC 20008

cocktails at 6pm - dinner at 7pm
Business casual attire

$150 per person / $1500 per table

Sponsored by the American Mideast Coalition for Trump


Most Recent posts at The Iconoclast