The Fisher's Loveluck by Karl Gottfried von Leitner
Translated from the German
by Michael Shindler (June 2021)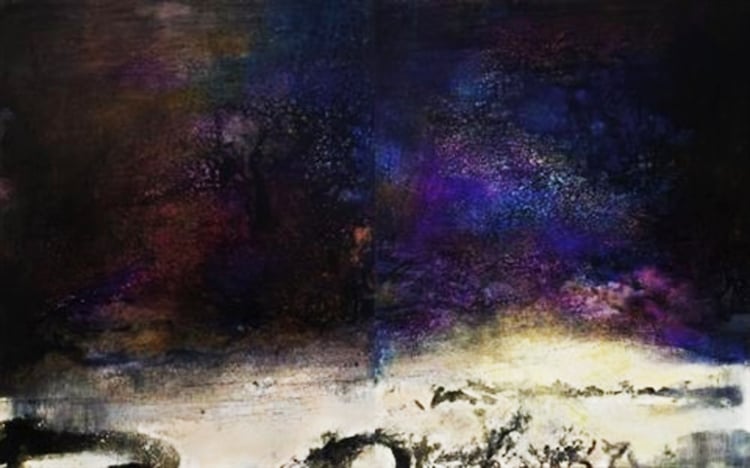 10.03.83 (diptych), Zao Wou-Ki, 1983
There glows
Through the willows,
And shows,
A shimmer,
Barely shining,
From the chamber
Loveliest to me.
It sways
Like a ghost
And plays,
Mutely musing
Its mirror,
In the ring
Of the dreaming lake.
I review
Resolutely
The blue
Current
And greet
The lambent
Beam's reflection,
And spring
To the rudder
And swing
The boat's side
Along
The wide
Crystal path.  
My ladylove
Sneaks nimbly
From her chamber above
Descending,
And swiftly,
Delighting,
Towards me in the boat.
Then
There blows
The breeze again
Through the lilac
Covered bank
And we go back
Into the lake.
The pale
Evening mists
Overveil
Like a shroud
From would-be-spies
Our unavowed
Guiltless gaiety.
And our exchanges
Of kisses
Mirror ranges
Of the lake's welling,
In sinking
And swelling,
Heedless of spies.
Only a star
Overhears
Us afar,
And then submerges
Deep under
The gentle surges
Of the boat's wake.  
So we go
Blissfully
In the glow,
Darkling,
High above
In the sparkling
Of stars.
And we cry
And smile
And sigh
Away
From the Earth
Already above the fray,
Already over there.
Des Fischers Liebesglück
Dort blinket
Durch Weiden,
Und winket
Ein Schimmer
Blaßstrahlig
Vom Zimmer
Der Holden mir zu.
 
Es gaukelt
Wie Irrlicht,
Und schaukelt
Sich leise
Sein Abglanz
Im Kreise
Des schlummernden See's.
Ich schaue
Mit Sehnen
In's Blaue
Der Wellen,
Und grüße
Den hellen,
Gespiegelten Strahl.
Und springe
Zum Ruder,
Und schwinge
Den Nachen
Dahin auf
Dem flachen,
Krystallenen Weg.
Fein-Liebchen
Schleicht traulich
Vom Stübchen
Herunter,
Und sputet
Sich munter
Zu mir in das Boot.
Gelinde
Dann treiben
Die Winde
Vom Flieder
Des Ufers
Uns wieder
Hinaus in den See.
 
Die blassen
Nachtnebel
Umfassen
Mit Hüllen
Vor Spähern
Den stillen,
Unschuldigen Scherz.
 
Und tauschen
Wir Küsse,
So rauschen
Die Wellen
Im Sinken
Und Schwellen,
Den Horchern zum Trotz.
 
Nur Sterne
Belauschen
Uns ferne,
Und baden
Tief unter
Den Pfaden
Des gleitenden Kahn's.
So schweben
Wir selig,
Umgeben
Vom Dunkel,
Hoch überm
Gefunkel
Der Sterne dahin.
__________________________________
Michael Shindler is a writer living in Washington, DC. His work has appeared in publications including The American Conservative, The American Spectator, National Review Online, New English Review, University Bookman, and Providence. Follow him on Twitter @MichaelShindler.
Follow NER on Twitter @NERIconoclast