Tuesday, 29 May 2018
Voice of Europe: Geert Wilders, the leader of the Party For Freedom (PVV), has urged Theresa May to release Tommy Robinson.
On Twitter, the leader of the PVV party says:
"As the leader of the largest opposition party in the Parliament of The Netherlands I urge you @theresa_may at @10DowningStreet to honour the value of free speech and release Tommy Robinson from prison. The UK should not have political prisoners."
Today, Wilders also made a video statement in front of the British embassy in The Hague.
Wilders announced to ask "parliamentary questions to the Dutch Minister of Foreign Affairs about the arrest and safety of Tommy Robinson".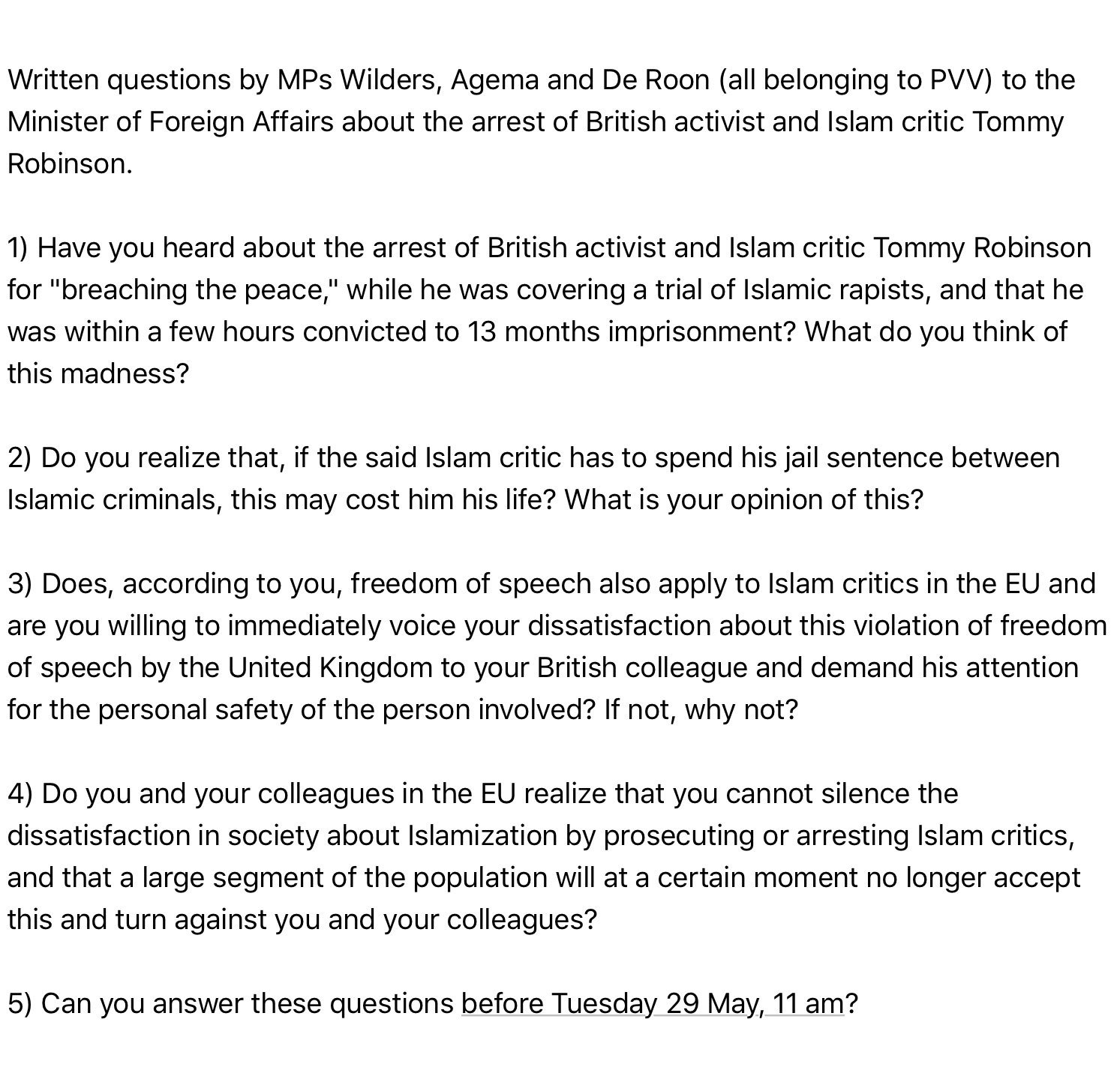 Later Wilders called the arrest of Robinson on Twitter "scandalous" and a form of "totalitarianism".
On Friday, Wilders already criticised Robinson's arrest and asked if the UK is becoming like Saudi Arabia:
"Arrested for 'breaching the peace' while reporting on a Islamic grooming gang trial? Is this Saudi-Arabia? Has the United Kingdom become a police state? Jail = a death sentence for Tommy Robinson. Come to your senses United Kingdom!"
Posted on 05/29/2018 8:20 AM by Rebecca Bynum
Comments
No comments yet.

Order from Amazon or Amazon.UK today!

Order from Amazon US
or Amazon UK today!

Amazon donates to World Encounter Institute Inc when you shop at smile.amazon.com/ch/56-2572448. #AmazonSmile #StartWithaSmile
Recent Posts at The Iconoclast