From Reuters and the Independent. Photograph from the Daily Mail
MOSCOW (Reuters) – Police in Russia shot dead a 16-year-old teenager in the Muslim-majority Tatarstan region after he tried to set fire to a local police station and stabbed a police officer, Russian investigators said on Friday.
Russia's Investigative Committee, which handles major crimes, said in statement it was treating the incident as an attempted act of terrorism and had opened a criminal case.
The teenager had tried to set alight a police station in the town of Kukmor using a Molotov cocktail and had stabbed a police officer at last three times during an arrest attempt, the statement said. 
Baza, an unofficial social media channel associated with law enforcement, later claimed to identify the young man as 16-year-old Vitaly Antipov. 
The same channel suggested the young man shouted "God will save me, unbelievers, Allahu Akhbar" and recorded a social media post "calling for jihad" shortly before attacking the station.
In a chilling video before the attack, Antipov told how he intended to destroy a cafe which he saw as sinful and 'devilish'. It is unclear why he instead targeted a police station.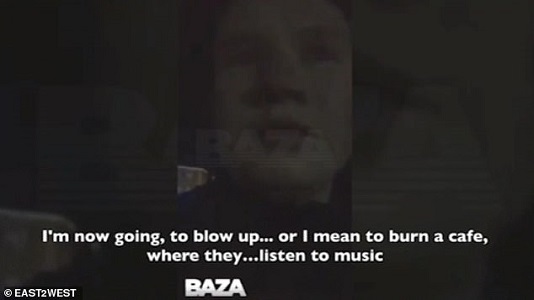 Filmed as he walked in darkness to the scene, the 16 year old – whose mother is reportedly a devout Muslim – said: 'May the peace, mercy, and blessings of Allah be with you. I'm now going, to blow up… or I mean to burn a cafe, where they… listen to music… A club where they sell alcohol… Such a vile, devilish place. Inshallah, it will be destroyed.'
The video was revealed by BAZA media which said it was withholding the full footage because it included calls to attack police.
Antipov was reported to be from the Altai region in Siberia and had a job working in a halal cafe named Barakat. Its owner Marat Zamaleev had served 14 years for sabotage and the Illegal manufacture of weapons.