A little more tonight about the trial that started this morning. From the Telegraph the BBC the Independent and the Times
Mark Heywood QC, prosecuting, said Haque had resolved in 2016 and early 2017 "to carry out one or more violent attacks in this country, with others if he could".
Mr Heywood said Haque's plans "extended to the recruitment of yet others to the causes. Those others were not grown men, but youngsters. Youngsters aged about 11 to 14." He set out "to persuade them in due course to take part in action", the court was told.
Mr Heywood said: "His methods were to expose them to information and video recordings and then to have them, in instances, enact scenarios of violent action against the police in this country and others…"
He was under surveillance by the security services and was recorded chanting to himself: "We are a death squad sent by Allah and his messengers to avenge my Arab brothers' blood."
He taught at the Islamic boys' school in Leyton, east London, between September 2015 and September 2016, the court heard. Haque denies showing YouTube videos, featuring guns, burning passports and beheadings, at the Lantern of Knowledge school in Leyton, east London… 
But he admits doing so later at the Riddle (sic – its RIPPLE) Road Mosque where he taught classes, jurors heard.
Mr Haque told his young pupils that he was in contact with Isis and was intent on dying in the cause of Allah as a "martyr", the court was told. He said that if they mentioned it outside the mosque they would suffer after death and go to Hell and their homes would burn down.
The children were made to perform push-ups, races and grappling in order to train them in physical fitness, with Mr Haque allegedly yelling "Allahu akhbar" — God is greatest — as they did so.
In other sessions, it was alleged, the boys were told to engage in "role playing", taking the part of police and attackers in attack scenarios with weapons and a car bomb. The activity became more specific and included demonstrating the use of imaginary knives, taking inspiration from video recordings he had shown to cut and to sever the head through the neck.
Mr Haque is further charged with preparing terrorist acts by leading exercises with children at the mosque and disseminating terrorist publications at the Lantern of Knowledge secondary school in London. Mr Haque worked as an Islamic studies teacher at the Lantern of Knowledge Islamic school in Leyton, east London, catering for children aged 11 to 16, where he was said to "range far beyond any curriculum". Ofsted rated the school as "outstanding" but hopefully not for those reasons? 
Mr Haque became "fascinated" by the Westminster Bridge attack on March 22 in which five people, including PC Keith Palmer, were killed, and discussed bringing a reign of terror across London in secretly recorded chat, the Old Bailey was told.
In a bugged conversation with one of his co-accused, four days after the March 22 attack, Mr Haque allegedly said: "So what I want to personally is launch different attacks in all the different areas, one in Westminster, one in Stratford, one in Forest Gate, one in so many different areas, yeah. Immediately there's one focus to all the police. Get off the streets. Civilians get off the streets. London will be, not just Westminster attack, entire London…We're here to cause terror, my brother. We are a death squad sent by Allah and his messengers to avenge my Arab brothers' blood . . ."
Mr Haque allegedly discussed using a car, leaving bombs in a lift, and going for "a quick spin" around Westminster, and separately compared Isis gaining more territory to "us winning the world cup".
The court heard that about five days before his arrest in May Mr Haque staged a role-playing exercise between some of the children in a tent behind the mosque, naming some as "martyrs" and others as police. While the rest of the class watched, he allegedly showed them how to kill police officers and responders.
Mr Haque came to the attention of authorities when he tried to travel to Turkey from Heathrow in April 2016, with the route closely watched after being used by hundreds of British jihadis who joined Isis in Syria.
Haque, of Manor Park, and Mamun, of Barking, deny preparation of terrorist acts between March 25 and May 18 last year. Haque and Patel, of Forest Gate, both deny one count of conspiracy to possess a firearm.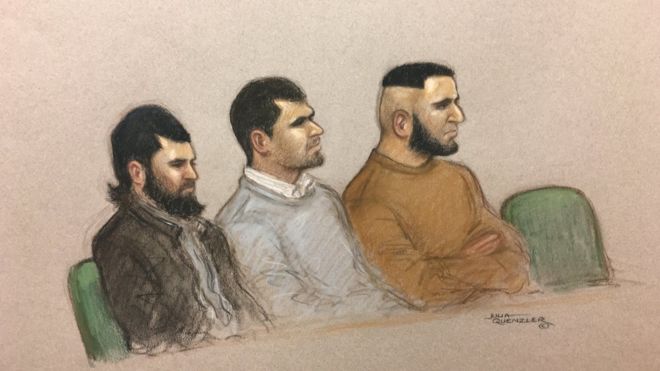 From L-R: Umar Ahmed Haque, Abuthaher Mamun and Nadeem Patel were present in court. No idea where fourth defendant Muhammad Abid is/was. 
The Lantern of Knowledge school was not there when I lived in Leyton; of course that was then, this is now. The listed GCSE curriculum looks very narrow, but the pictures of the boys enjoying activities looks interesting and fun. They are visiting court and wearing legal wigs, listening to an English lady in 18th century costume, looking serious at the Jewish museum. Is this just window dressing? Did Haque have much success indoctrinating them? I hope we don't find out the hard way.