by Philip Blake
I was interested in attending the Yad Vashem traveling exhibition that should have taken place in Golders Green recently. Sadly it was cancelled, as the Jewish Chronicle reported. 
The Love Your Neighbour Exhibition had been due to take place at the Markaz (Centre for Islamic Enlightening) in Golders Green, however it abandoned plans for the event — organised with local Jewish groups and the help of Israeli Holocaust centre Yad Vashem — after the Iranian regime's media outlets criticised it for collaborating with "Zionists".
A mosque in Redbridge has agreed to host the exhibition to ensure the story about Albanian Muslims who saved Jews is told. The precise location will be revealed closer to the event to ticket holders,
The Markaz faced a boycott, notably from 5Pillars, a Muslim news and opinion site that opposed the exhibition's ties to Yad Vashem.
5Pillars editor Roshan Salih, who also works for PressTV, which is funded by the Iranian government, objected to the event being held at the Golders Green mosque, tweeting: "No to normalisation. Boycott Israel and Israeli institutions."
On Twitter, PressTV UK described the Holocaust exhibition as "outrageous" and described it as an "'interfaith' event with Zionists".
The story was then picked up by the Islamic Republic's Mehr News Agency.
Mehr described the event as cooperation with a "Zionist institution", and described the Markaz as a "Shirazi cult".
When the exhibition was rescheduled I ordered a ticket for the alternative venue, the community hall in Eton Road Ilford which is the premises of the League of British Muslims.
Meanwhile 5Pillars had been busy putting pressure on the chairman Mr Bashir Chaudhry MBE.  But he didn't cave in under pressure and I didn't get an e-mail telling me the exhibition had been cancelled.  On Sunday afternoon I made my way across London and arrived in Ilford in good time. There were a couple of Police officers and community officers in attendance and some young men inside who were internal security. There was plenty of time to read the exhibit boards and chat to people.
The idea to bring the Yad Vashem exhibition to London in the first place was the work of the Groundswell Project in Barnet (Golders Green is within the district of the London Borough of Barnet) The exhibition was a series of boards of photographs by Norman Gershman telling the stories of some of the Righteous, with some introductory background information. It didn't go very deep into the subject, but as a travelling exhibition, aimed at people who knew absolutely nothing to start with, it was pitched about right.
These are a selection.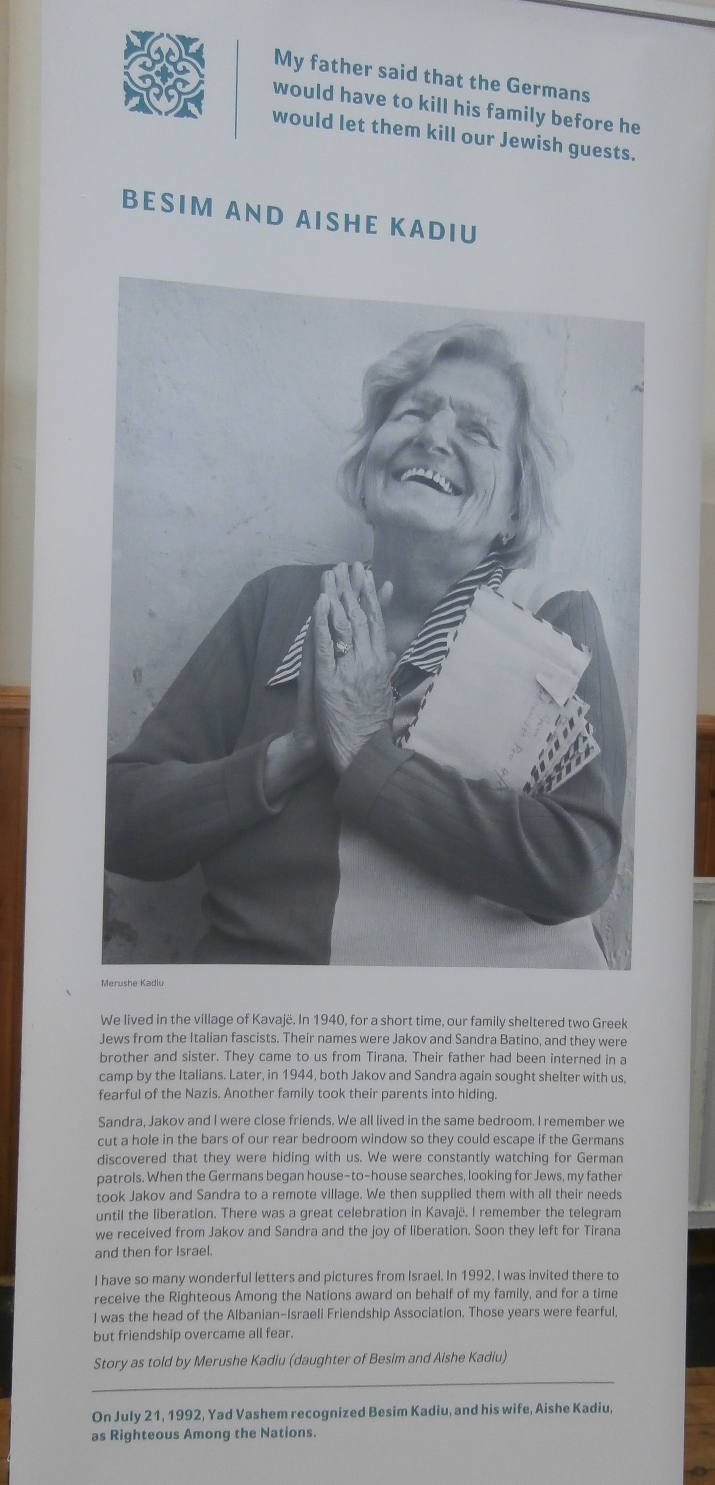 At 2pm speeches began.
The first speaker was a young man, Yusef Patel of Redbridge Council. Redbridge council had been instrumental in bringing the exhibition to Ilford. Apparently he knows/has worked closely with Hadiya Masieh of Groundswell and when an alternative venue was needed he thought he knew just the place and just the man.
The next speaker was Mr Bashir Choudary MBE himself who spoke of the community work that goes on in this hall, not just a mosque, a church on Sundays and other useful work.
The next speaker was Hadiya Masieh of Groundswell. While she spoke of the 'extremists' who threatened the Golders Green mosque, she heard that there had been some minor trouble outside the hall earlier but it had been 'dealt with', she never mentioned what ideology motivated their extremism. We know they were not British, from the so called 'Far-right'. We know they were not Tamil Tigers or the IRA. We know they are a Muslim group. But she, for whatever reason, glossed over that
The next speaker was called (I think) Edwin and he was something to do with Albania at the Home Office. He spoke about some of the recent tense history of the Balkans in Bosnia, Kosovo and Serbia. Also how good to be able to see positive things done by Albanians celebrated as in modern Britain Albanians are associated with gang crime. 
Then Rabbi Herschel Gluck OBE president of Shomrim in Stamford Hill and well respected in inter-faith matters who spoke about the holocaust and how neighbours, especially in Austria where his family had lived for centuries, could suddenly turn on familes they had grown up with.
I started off quite impressed at this plucky little community mosque in a back street in east London who had defied the Theocracy of Iran, and the general goodwill of Groundswell. Maybe the young people working for that orgaisation are naïve, but people of goodwill should not be discouraged
Then the next speaker was warmly welcomed, Fiyaz Mughal of Tell MAMA.
He first mentioned the darker actions of Muslims in the Balkans; it is an undeniable fact that Bosnian Muslims formed a small SS division, and Haj Amin al-Husseini the Mufti Of Jerusalem met with Hitler to discuss the Final Solution. Then he moved on to familiar ground. Islamophobia, and the rise of extremeism, and hate, and islamophobia, anti-semitism even, also without once mentioning the elephant in the room.
I had spent some time reading the glossy "Hate Crime – a Guide for those Affected" issued by amongst others Tell MAMA and the CPS which was on a table by the entrance door. I am also aware that he has a agenda of his own and can be opportunist.
The next speaker was Mike Gapes the Labour MP for Ilford South. He is known to be a friend of Israel, has clashed with Jeremy Corbyn more than once over anti-semitism, and has been attacked by Muslim groups for daring to consider the needs of  his Jewish constituents as well as theirs. He spoke well, but he couldn't bring himself to name the extremism that had scuppered the Golders Green venue either. And he brought in alternative extremism with the murder of MP Jo Cox by a man who was obviusly mentally ill, but who had muttered something about Britain first as he struck.
What he did say, and it was the most emphatic mention of extremism (just omit the I and M words) of the afternoon when he spoke of the terrible crimes led and orchestrated in a street not very far from here.
Hampton Road, where Anjem Choudary lived until his imprisonment (and where his family may still live, his bail hostel and his famiy's whereabouts is not information in the public domain) runs parallel to Eton Road 150 yards to the north. Members of al-Muhajiroun were a common sight at one time around this area.
Then Rabbi Wollenberg the representative of the Chief Rabbi Ephraim Mirvis who couldn't be present as he was attending the funeral in Hertfordshire for six victims murdered in Auschwitz whose ashes had been donated to the Imperial War Museum. Rabbi Wollenberg was going on later to a circumcision of a baby boy; death, lives saved in Albania and new life, cause for hope.
Then Councillor Jas Athwall Leader of Redbridge Council.
Followed by the Commissioner for Countering Extremism Sara Khan. Again she spoke of the danger of extremism, without mentioning the ideology behind the threats which resulted in the change of venue, the ideology of Islam
which has been responsible for, as Mike Gapes MP said, "so many terrible crimes". Not to mention (and they didn't mention) the hundreds of deaths in England alone since July 2007 attributable to jihad.
Finally Vivian Aisen Director of Public Diplomacy at the Israeli Embassy. She was brief. "I know there were some concerns about my arrival but I think this sort of venture is very important. I hope to hear of more such in the future." She didn't say who had concerns about her presence, and what those concerns were.
Yusef Patel began to conclude; it was running late and past the listed finish time. I had to leave.
Outside a police officer stood and a man from Barnet Holocaust History gave me a flyer "In order to learn from history it must not be selective" pointing out that while some brave Albanians were saving Jews, elsewhere other Albanians were joining the SS Skanderbeg Division (cf the Bosnia SS division raised by The Mufti of Jerusalem).
I think a lot of the people involved on Sunday meant well. But no good is achieved by constantly glossing over the most dangerous of the extremist ideologies at work attacking our society.
The text most often quoted that afternoon, which I know is in Judaism, and I suspect Islam took it from there is "If one saves one person it is as if one saves the whole of humanity and if one kills an innocent person, it is as if one kills the whole of humanity' But define innocent. Muslims are never asked about the next verse in the Koran, the definition of a guilty (ie non-innocent) person. It is someone who 'spreads mischief' in the land. Often defined as being non-muslim, or critical of Islam, or what you will.
Anjem Choudary lived or will live again soon in the next street. Muslims who do not challenge the evil of that ideology are the sea in which jihadists like him swim.
To quote one of the speakers, they must not be bystanders, they must be upstanders.