From the Telegraph, the Daily Mail and the Lancashire Telegraph
Police have praised members of the public who helped detain a suspect after a shopper and a member of staff were stabbed at a branch of Marks & Spencer store in Burnley.
They arrested a 57-year-old man at the scene on suspicion of attempted murder.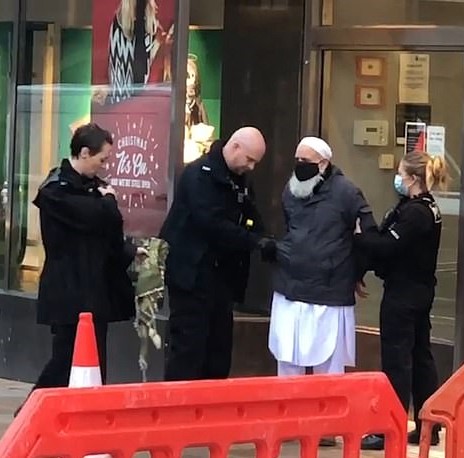 Police said witnesses to the incident had acted quickly and without thought for their own safety by helping to restrain the suspect until officers arrived.
Footage posted on social media showed the police detaining a middle aged Muslim man, who was wearing a facemask, outside the store.
A force spokesman said it was not being treated as a terrorist incident, although counter terror police were leading the investigation due to comments that had been made at the scene. Police . . . dismissed rumours circulating on social media it was terror-related.
It is understood police are looking into whether the suspect's mental health may have played a part in the incident.
Witnesses claimed one of the women was stabbed in the neck during the attack, but this has not yet been confirmed.  The two victims, a member of staff in her 40s and a shopper in her 60s, were rushed to hospital where their injuries were described as serious  but not life threatening.  Sanity threatening maybe, threating to their peace of mind when returning to work/shopping, going into town on a mid-week afternoon, going about their normal life as free-born Englishwomen. 
The suspect appeared calm as he was being handcuffed by officers.
Police said they were treating it as an "isolated incident" and they were not looking for anyone else in connection with the stabbing.
Superintendent Stasia Osiowy said ". . . This is not being treated as a terrorism incident but due to some comments made at the scene counter-terrorism detectives will be leading on the investigation. "At this time we are keeping an open mind as to motivation but what I can say is that we are considering the mental health background of the man we have arrested.. . "