To London on a cold (0°C, snow, yes not as cold as Manitoba but parky for SE England) to see or hear Tommy Robinson at Speaker's Corner giving the speech which Martin Sellner of Generation Identity (Austria)  intended to give last week, but he was forbidden entry to the UK. Lutz Bachmann, the founder of Pegida also hoped to attend from Dresden, but he was turned back at Stansted Airport in Essex this morning. According to Breitbart his luggage was searched, the text of his speech was found and this, with the admission that he is acquainted with Tommy Robinson was enough to bar him from the UK.  
Tommy was due to speak at 3pm; my husband and I arrived at half past 2 and there was quite a crowd. 
There were a few Muslims and a small number of people who had an appearance one associates with hard-line left-wing agitators. But no organised lines of antifa/UAF/Hope not Hate with their usual placards and chants.
A procession led by a flag-bearer carrying the Union Flag approached from Marble Arch. Back in the early 70s there was a band called Chicory Tip who had a song called Son of my Father. As a chart hit it was a minor one, but the riff was very catchy and quickly became a football chant, which it remains to this day. Today the words to that riff were "Tommy! Tommy! Tommy, Tommy, Tommy, Tommy, Robinson. " 
With numbers swelled as they surged towards the waiting crowd the police moved into positions and the contingent that we had identified as 'the opposition' ran. They spent the rest of the meeting waiting at some distance, and later as Tommy finished they melted away. Meanwhile we awaited Tommy's arrival. There are limits on what is allowed at
Speaker's Corner. Normally placards are not allowed but today the police were not being over-officious in having them removed.
We estimated about 2000 in attendance. I'm short; some people had come very well prepared.
Others were more agile and athletic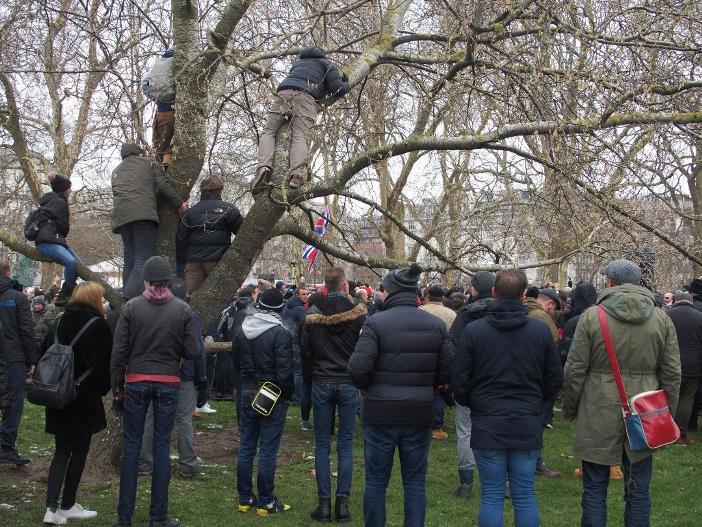 Members of Generation Identity UK handed out leaflets; personable young men with good manners. 
Then Tommy and his party arrived to a warm welcome, cheers and chants. There were flags of several nations, Austria, the Union Flag, England, Israel and the Stars and Stripes.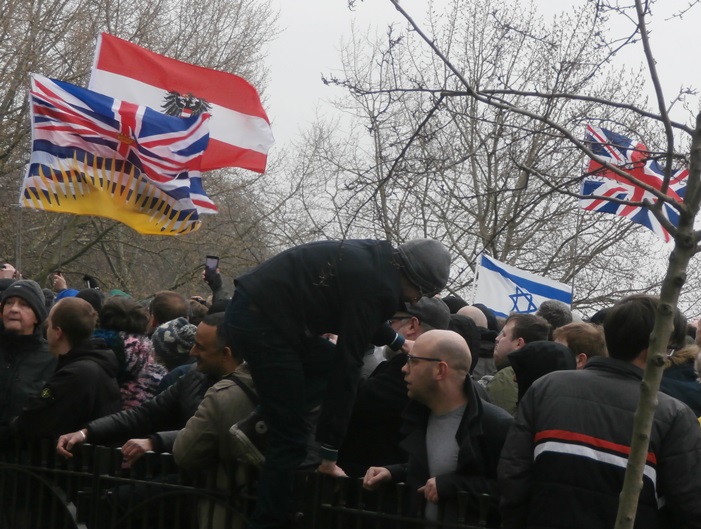 I couldn't hear Tommy and not everybody saw him but the text of the speech he delivered is here. 
.…xxxx
The speech completed there were cheers and Tommy and his party and supporters processed away. While we were watching this had quietly set up behind us. Two Muslims who are frequently at Speakers Corner, who go by the names Mohammed Hijab and Ali Dawah, had been vocal during the week about what and how Tommy would be defeated.
I don't think this dawa merchant is either of them. However he was soon surrounded by a knowledgeable group before whom he was floundering in his efforts to explain what a proper paedophile is, and how his prophet Mohammed was not one such. 
As a young woman I was talking to, who had travelled from Hertfordshire north of London, said "It doesn't matter that we didn't actually see Tommy (bless him) what mattered was to be here to show how many we are." 
Today was a good show. 
Photographs Esmerelda Weatherwax and her husband. London March 2018