PO Box 158397
Nashville, Tennessee 37215
27 Old Gloucester Street
London, England WC1N 3AX
Submissions should be sent to Rebecca Bynum – [email protected]
Guidelines here.
New English Review Press is pleased to announce the publication of our fiftieth title: What's the Problem Now? Black Grievances and White Guilt by Michael Brandow.
Michael Brandow gives us a personal survey of Jim Snow America, where all social ills are blamed on whiteness and black citizens are showered with preferences and excuses. This is the "lived experience" of an older middle-class white American negotiating the racial battlefield, told with unsparing frankness and considerable wit.
—John Derbyshire, author of We Are Doomed, novelist, critic, and proprietor of the weekly podcast Radio Derb.
What's the Problem Now? Black Grievances and White Guilt is an old white guy's witty and insightful account of his struggle to survive in New York City without becoming a racist. Unlike so many others in these uptight times of stifling seriousness and cartoonish certainty, he hasn't forgotten how to laugh at his race, or at another race. Anecdotes from a lifetime of "culture clashes" with black people are set against playful, non-dogmatic reflections on hot-button issues like black identity, white self-loathing, and racial conflict. This old white guy may not be a racist, but he admits our current infatuation with blackness has made him numb with "racial boredom." A tragicomedy for people of all shades.
MICHAEL BRANDOW writes on society, the arts, and canine culture. He is the author of four books on subjects ranging from public policy to social history, memoir, and political commentary: New York's Poop Scoop Law (Purdue, 2008); A Matter of Breeding (Beacon Press, 2015; Duckworth, 2016; Hakuyosha, 2019); Gone Walkabout (Amazon, 2019); and his latest title, What's the Problem Now? Black Grievances and White Guilt (New English Review Press, 2023). He has contributed to many publications, including the New York Times and the New York Post. He began writing art and social criticism for The New Criterion at its founding in the 1980s (including his most recent "Found, or appropriated?"), and for Peter Collier and David Horowitz at Heterodoxy in the 1990s. Recent essays for Quillette and the Village Voice have been listed in The Best American Essays ("Notable Essays and Literary Nonfiction"). He has been interviewed by many outlets, including The New Yorker ("Talk of the Town"), The Brian Lehrer Show, and the BBC ("Newshour," BBC Radio London, &c.).
New English Review Press is pleased to announce the publication of our forty-ninth title: The Mountain and the River: Genesis, Postmodernism, and the Machine by Albert Norton.
Erudite, eloquent, challenging, illuminating, insightful, thoughtful and thought-provoking.
— Micah Andrew, Midwest Book Review.
Whatever your philosophical or religious standpoint, Mr. Norton is sure to challenge it in a constructive and thought-provoking way. His dissection of our current philosophical impasse and its consequences is forthright and illuminating.
—Theodore Dalrymple, author of Farewell Fear and Grief and Other Stories.
In The Mountain and the River, author Albert Norton states that "We all feel the need for a sense of purpose and meaning in our lives…. Inside each of us is a burbling conviction of our own significance in a larger drama that yet remains invisible to us." In the tradition of C. S. Lewis, Francis Schaeffer and other astute cultural critics, he notes: "This book is about the chasm between two worldviews: that of Genesis and that of postmodernism." Currently, "Western civilization is at a precarious crossroad"… as postmodern thinking has become pervasive in our culture "like a virus escaped from the lab."
Throughout the book the author systematically and meticulously applies the principles of a comprehensive Christian worldview to a broad range of contemporary issues – everything from contrasting philosophies regarding biblical revelation and interpretation to current controversies over morality and ethics, sex and gender, modern psychology, contemporary political ideologies, "woke" capitalism, and the impending collapse of traditional Western civilization. The result is a veritable intellectual feast and essential reading for those who seek to understand the turbulent times in which we live. Highly recommended!
—Jefrey D. Breshears, former history professor, founder of The Areopagus, and author of American Crisis: Cultural Marxism and the Culture War; C. S. Lewis on Politics, Government, and the Good Society; and Francis Schaeffer: A Retrospective on His Life & Legacy.
New English Review Press is pleased to announce the publication of our forty-eighth title: The Heavy Lifting: A Boy's Guide to Writing Poetry by Jeffrey Burghauser.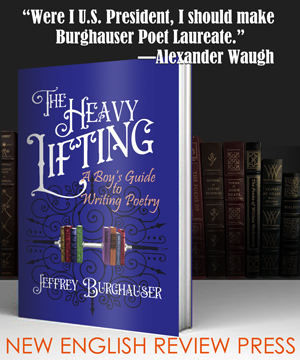 In The Heavy Lifting: A Boy's Guide to Writing Poetry, acclaimed poet and educator Jeffrey Burghauser not only makes a case for poetry—he makes a case for poetry's restoration to the prominence it once enjoyed among the manly arts. In short, pithy chapters, Burghauser guides the aspiring poet through the values, attitudes, and techniques required for a lifelong adventure in language. The Heavy Lifting is at once an instruction manual, a textbook, a manifesto, a piece of literary criticism, a polemic, a pep talk, and an anthology—a mélange recalling Ezra Pound's 1934 classic ABC of Reading. Find a comfortable place to sit, open this book, and meet one of our most dynamic teachers of poetry.
Advance Praise for The Heavy Lifting: A Boy's Guide to Writing Poetry:
"In The Heavy Lifting, Jeffrey Burghauser reveals a knowledge of and love for poetry that is simply astonishing in its range and depth. And his commitment to communicating his passion for verse and his skill at stirring the interests of readers – especially his target audience of boys and young men who are, perhaps, least likely to be receptive to what poetry has to offer them (intellectually, emotionally, spiritually) – is truly admirable. This book will be invaluable for teachers of poetry and for all who are keen to learn and enjoy what it has to offer, not only in the classroom, but for life. Every page is an inspiration."
–Barry Spurr, Australia's first Professor of Poetry and Literary Editor of Quadrant
Critical Praise for Jeffrey Burghauser's Poetry:
"I have really never come across a poet as consistently excellent as Burghauser. I bow to his genius, and, were I U.S. President, I should make him Poet Laureate."
—Alexander Waugh, author of The House of Wittgenstein: A Family at War and General Editor of The Complete Works of Evelyn Waugh
"Jeffrey Burghauser's poetry tackles the eternal questions with verbal, intellectual and emotional precision."
—Theodore Dalrymple, essayist and author of numerous books including Ramses: A Memoir
"Jeffrey Burghauser is a master of highly structured, traditional forms of poetry and he seems to inhabit the verse in a way that makes rhyme seem effortless. […] Burghauser is among the most competent poets I have read in recent years, and among the most satisfying."
—Ivan Head, Quadrant
New English Review Press is pleased to announce the publication of our forty-seventh title: The Great Reset and the Struggle for Liberty: Unraveling the Global Agenda by Michael Rectenwald.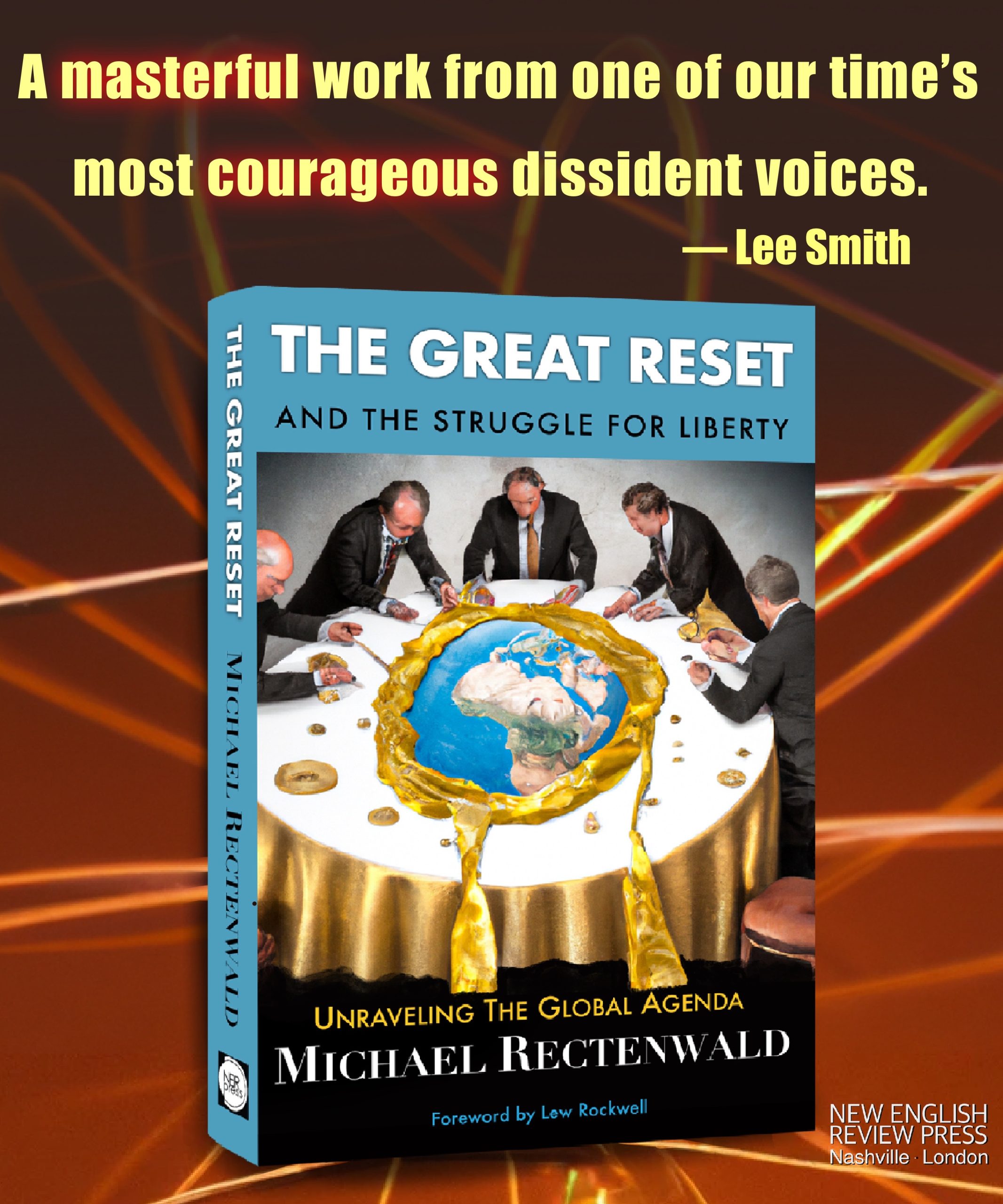 The Great Reset and the Struggle for Liberty: Unraveling the Global Agenda is the definitive treatment of the Great Reset. In a scholarly examination, Rectenwald treats the various components of the Great Reset, including the economic system it establishes, the deep history of the World Economic Forum (WEF), the population control "ethics" of the WEF and related globalist organizations, climate change catastrophism, the technologies of the Fourth Industrial Revolution (including transhumanism), and the question of conspiracy theory. Rectenwald ends with a nine-point plan for stopping the Great Reset in its tracks, as part of what he calls the Grand Refusal. Far from a conspiratorial rant, The Great Reset and the Struggle for Liberty is a thoroughly sourced account that lays bare the premises and implications of the Great Reset project.
Advance Praise for The Great Reset and the Struggle for Liberty
"Michael Rectenwald's The Great Reset and the Struggle for Liberty is a masterful and timely work of intellectual history from one of our time's most courageous dissident voices. With extensive research in various disciplines — from European history and sociology to American finance, and from AI to climate science — Rectenwald gives us a sweeping and detailed account of the false prophets of an anti-human movement threatening to engulf America and other Western democracies. This tour-de-force is essential reading for those engaged in the ongoing struggle to preserve man's freedom and future against totalitarianism — and a lasting testament of hope, faith, and love for the generations to come."
 — Lee Smith, author of The Permanent Coup and The Plot Against the President, host of The Epoch Times' Over the Target.
"When you first hear what the world's elites are up to, you think: this can't be true. Unfortunately, dear reader, it is, and we do ourselves no favors by pretending otherwise. In fact, as Michael Rectenwald shows us, their current program didn't emerge just a year or two ago but is instead the culmination of a century-long effort against the liberties of the people. You'll see how their current obsessions — woke ideology, "climate change," vaccine passports, and so on — combine to solidify their dominance. This book lays out, in their own words, their plans and intentions, and what we can do to stop them."
— Tom Woods, senior fellow of the Mises Institute and host of The Tom Woods Show
  *   *   *  
New English Review Press is pleased to announce the publication of our forty sixth title: Across the Gulf of Time by Evelyn Hooven.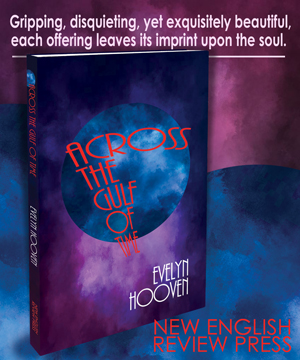 In this majestic volume, Evelyn Hooven establishes herself among America's finest poets, translators and playwrights. Evocative and timeless, each piece is perfectly balanced in form and sentiment. Gripping, disquieting, yet exquisitely beautiful, each offering leaves its imprint upon the soul.  
A true literary masterpiece.
Advance Praise for Across the Gulf of Time:
In simple but poetic diction, Evelyn Hooven addresses the deepest problems of human existence and conveys the deepest emotions. She does not shy away from the painful, a mark of her sincerity, and she thereby helps us to endure it. 
―Theodore Dalrymple, essayist and author most recently of Neither Trumpets nor Violins and Ramses: A Memoir
With this collection we can at last enjoy Evelyn Hooven's achievement in full, and it is striking.  Naming her alongside the likes of Dickinson, Marianne Moore and William Carlos Williams (Keats, too, is here) is no stretch, for like them and in a variety of forms – her song is always fresh – she stirs, unsettles, surprises, haunts, and satisfies.  Mostly, though, she reveals (not least in her translations of Borges, a soul mate).  And even beyond this, the subtle and severely honest sensibility, Hooven's spirit is intensely vivifying.
―James Como has published poetry, fiction and essays.  His most recent books are Carry Me Home: Ten Tales for the Childlike, C. S. Lewis: A Very Short Introduction and Mystical Perelandra: My Lifelong Reading of C. S. Lewis and His Favorite Book.
New English Review Press is pleased to announce the publication of our forty fifth title: A Chocolate Box Menagerie by Paul Freeman. An excellent Christmas gift for children of all ages.
A Chocolate Box Menagerie is a wonderful little volume of charming poems full of strange creatures with recognizable personalities. Freeman explores the child's world in which there is no distinction between animate and inanimate. A packet of spaghetti is as likely to be looking for love as a sparrow. Starfish gaze at the night sky and wonder from where they've dropped. And bathroom mirrors live in constant torment, unable to flee from what they have to witness every day!
We read of domestic dramas: the marmalade's bitterness towards the jam; the macaroon's attempt at singing and dancing; and the infidelity of a pickled herring. There are also many poems about exotically named animals.
The book is remarkable for its wit and inventiveness. Has anyone written before about the yearnings of a bacon sandwich, or told of the tragic life of a coat hanger? Who has ever thought to create a world peopled by letters of the alphabet? And all this is done with the enduring grace and beauty of meter and rhyme that will surely appeal to all ages.
Advance Praise for A Chocolate Box Menagerie:
The child's instinctive thrill at well-used rhyme and meter is the best counterargument to postmodernists trying to reform away our capacity for delight. Paul Freeman's collection of whimsical verse reminds us of what real poetry can do, and why it's good.
—Jeffrey Burghauser, poet and author of the forthcoming The Heavy Lifting: A Boy's Guide to Writing Poetry
Paul Freeman was born in 1949 and has lived most of his life in the UK. Following university, he spent five years in Japan studying Zen at Shogenji in Minokamo. On his return, he became an art dealer and photographer.
New English Review Press is pleased to announce the publication of our forty fourth title: Bullies of Woke and Their Assault on Mental Health by Diane Weber Bederman.
Bullies of Woke and Their Assault on Mental Health is a ground-breaking work documenting the serious harm the "Progressive Left" is doing to the mental health of our innocent children who are subject to the unrelenting pressure to conform to woke ideology as never before. Bederman is unsparing in her critique of the absurdity, anti-Americanism and anti-Western cultural ideas emanating from the Woke brigade. Our children are literally being bullied to death—committing suicide rather than endure the vicious and aggressive bullying to which they are routinely subject these days. Critical Race Theory, Transgenderism and the heavy-handed efforts to silence dissent are deadly foes of what was once broadly considered to be classical liberalism. Bederman's book is simultaneously a guidebook to the modern woke movement and a call to action for the common-sense, silent majority to rise-up in opposition and restore our Judeo-Christian bedrock values in our homes, our schools, and our nations.
Advance Praise for Bullies of Woke:
The Bullies of Woke is Diane Weber Bederman's most passionate defense yet of the West's embattled, Judeo-Christian values in the face of the religious fanatics of "wokeness." In this short but wide-ranging book, she empowers us to resist the Progressive bullying of Cancel Culture, Critical Race Theory, the abuse of language, the war on the traditional family, and more. For anyone beginning to despair that our civilization is lost, Diane Bederman points the way forward, with wisdom, compassion, and a fighting spirit.
—Mark Tapson, the Shillman Fellow on Popular Culture for the David Horowitz Freedom Center
Diane Weber Bederman takes all the cultural bullies of our era to the woodshed in this compact guide to the perplexed. In well-chosen examples, she illustrates the many genres of "malignant normality" that surround those of us struggling to remain rational in a post-reason world. Rooted in the timeless principles of our Judeo-Christian heritage, the lucid, spirited prose of Bullies of Woke is a tonic call to moral arms.
—Barbara Kay, columnist for The National Post, The Post-Millennial and The Epoch Times
Internationally renowned author, Diane Weber Bederman, puts pen to paper in her Bullies of Woke and their Assault on Mental Health to give us an insightful look into the attack on the principles that underpin our Western way of life. She notes that these principles, wrapped up and secured within a Judeo-Christian ethic, have come under relentless attack by a "new religion of the woke" – a religion that seeks, as a priority, to negate the fundamental building block of Western culture in the form of the nuclear family. Indeed, from the preface right through to the end of the final 22nd chapter, the author warns that apathy, cowardice and a general failure to defend the agency of individual free will, hard won after 3500 years of history, has left our children and grandchildren at risk. This clear-sighted literary offering combines the passion of a loving parent and grandparent with a full slate of expert and footnoted references. It is an essential addition to the libraries of those seeking to understand the perils faced by freedom-loving citizens and their families and what can be done to fight back.
—Major Russ Cooper (Canadian Airforce Ret'd), Canadian Citizens for Charter Rights and Freedoms
New English Review Press is pleased to announce the publication of our forty-third title, RSKY BZNS by Paul Illidge.
In the footsteps of Catch Me If You Can and The Wolf of Wall Street . . .
RSKY BZNS is the incredible true story of the charming rogue swindler John James Illidge, whose proclivity for investment fraud culminates in a $100 million con of several dozen unsuspecting clients (among them his own mother and wife) who never saw a dime of their money again.   
On the run, Illidge flees to his older brother Paul's house, living with him and his three children for the next six months, during which time Paul, a writer and investigative journalist—who has been keeping track of his brother's exploits for years—begins documenting the ongoing frauds, aiding and abetting them, or so it seems, by typing up John's stock agreements on his computer, then proposing a plan to his brother whereby he would impersonate John, fly to the Cayman Islands and retrieve $7 million, $5 million going to John, $2 million to Paul for his services.
Fearing the authorities may be closing in, the impersonation plan is put on hold when John moves out suddenly to live with his girlfriend in another city. His way of saying thanks to his brother for the free hospitality? Setting him up in a car fraud that will send him to jail for five years if caught. He gets caught.
RSKY BZNS is the book Paul Illidge writes describing his brother's crimes, both business and personal, in order to come up with an answer to the questions people are continually asking: What made your brother go bad? Why is he leading a life of crime? What will it take to stop him?
Advance Praise for RSKY BZNS:
RSKY BZNS is a most interesting and fascinating read. It demonstrates vividly and accurately how fraud and conning can become addictive, dangerous, and destructive unless the con man changes his life. If he doesn't, the consequences for all concerned are tragic.
— Frank Abagnale, Jr., author of Catch Me If You Can
A gripping and intricate read; an interesting contemporary story of financial skullduggery, with several diverting flourishes—very pleasantly written.
—Conrad Black, author of Franklin Delano Roosevelt: Champion of Freedom, A President Like No Other: Donald J. Trump and the Restoring of America, and Flight of the Eagle, a Strategic History of the United States
In his one-of-a-kind memoir/detective story, Paul Illidge doggedly unravels the darkly seductive, labyrinthine schemes of a consummate con man, made all the more compelling by the fact his quarry is his own younger brother. Leading us to a disturbing, stranger than fiction, Rosebud-like revelation, his exposé not only performs a tour de force of personal tenacity but an act of public service.
—James FitzGerald, author of What Disturbs Our Blood: A Son's Quest to Redeem the Past, winner of the 2010 Writers' Trust Non-Fiction Prize
Paul Illidge's new book, RSKY BZNS, is an insider's view of a Bernie Madoff-like series of financial frauds and their mounting fallout. Illidge might have another hit on his hands with this well-crafted, fast-paced exploration of Ponzi schemes, the securities industry, and the perplexities of intergenerational mental illness.
—Ian Mulgrew, Vancouver Sun author and journalist
New English Review Press is thrilled to announce the publication of our forty-second title, Ramses: A Memoir, by Theodore Dalrymple.
Ramses was the best dog in the world, the cleverest, friendliest, most expressive, understanding, amusing dog that ever was, and it was only a happy coincidence that he happened to be ours.
New English Review Press is thrilled to announce the publication of our forty-first title, Neither Trumpets nor Violins by Theodore Dalrymple, Samuel Hux and Kenneth Francis.
New English Review Press once again takes on the great ideas of our time in this sequel to The Terror of Existence by Theodore Dalrymple and Kenneth Francis. This volume adds another interesting mind to the mix: the philosopher Samuel Hux. Together these thinkers take on some of the most prominent philosophers influencing our age, pointing out strengths and weaknesses in their works, worldviews. and characters. Nietzsche, Wittgenstein, Sartre, Machiavelli, Plato, Schopenhauer, John Stuart Mill and Bertrand Russell are covered as are the less well-known Trumbull Stickney and Jonathan Edwards.
If you liked The Terror of Existence, you'll love Neither Trumpets Nor Violins. It's food for the mind.