by David Hamilton (April 2010)

As you walk around English towns and cities you are struck by the masses of cranes bobbing in the sky. What these suggest is our town and city-scapes (urbiscapes) are being changed into something different. The architecture and the character of our towns and cities are part of our inherited culture.

Architects belong to a profession and have their own jargon and way of thinking and follow their own fashions. They follow each others' work. One from Brazil I was in conversation with last week was stopping in London for a few days before going to look at some buildings in Paris. He spoke of how modern architecture is international not culture-specific and that it is big concerns that commission large projects. They are in the service of commerce.

There is a gap between architects and population which is expressed in the nicknames given to new buildings: The Gherkin and The Cheese Grater in London; in Liverpool, the Catholic cathedral is known as The Mersey Funnel or Paddy's Wigwam and a piece of contemporary art in Newcastle is mocked as The Ice Cream Cone because it looks nothing like what it is supposed to represent. Contemporary buildings always look like something else and humorous metaphors highlight how comical they look! They can not be taken seriously and make the host city look silly.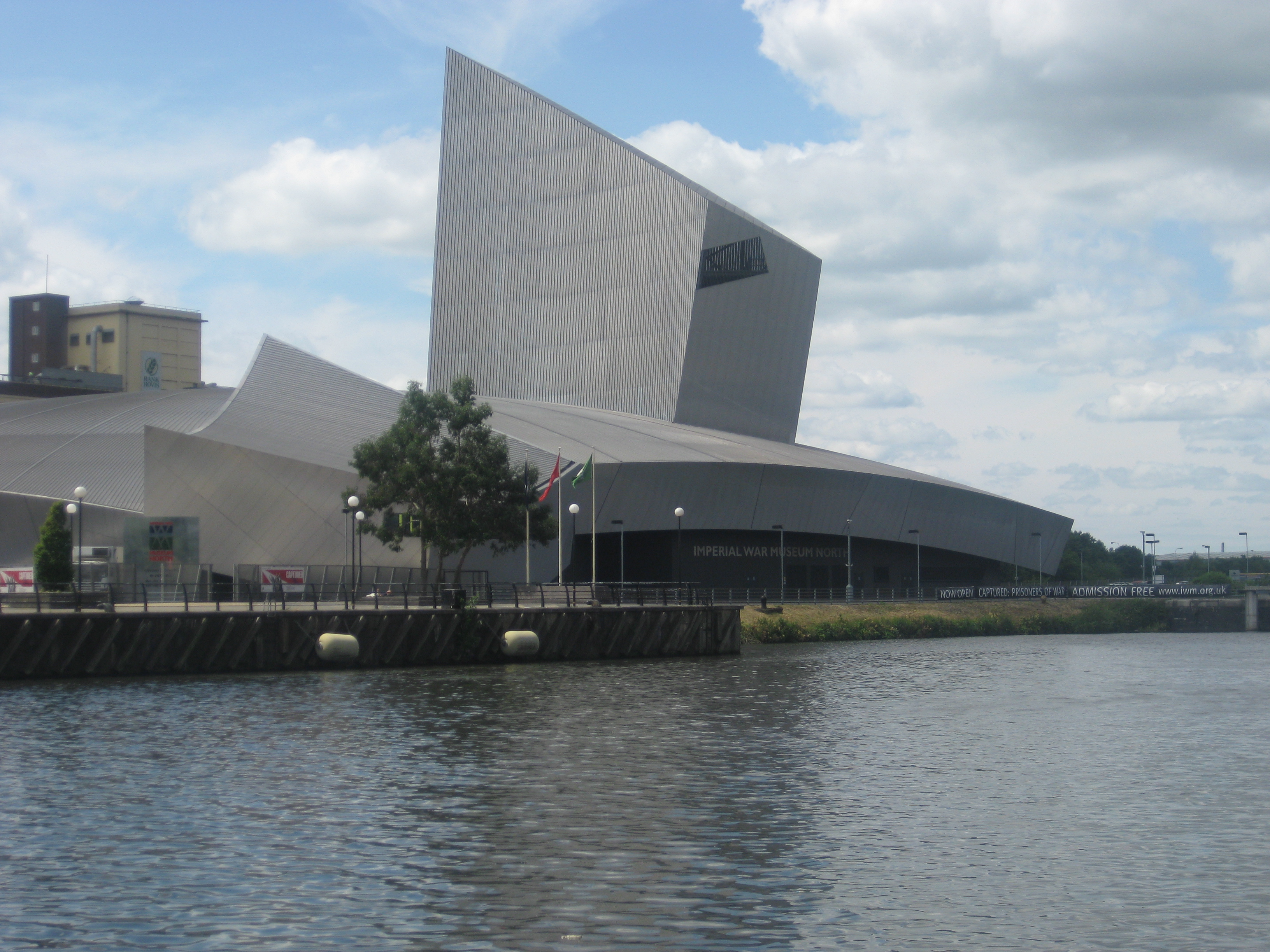 An important factor is the break from traditional form. Tradition is renewed but slightly altered by additions like steps through time which is how change is normally effected, not by grand schemes that break the tradition like contemporary architecture and do not fit into their surroundings. This adds to the deculturation of local people who cease to feel they belong. Architecture needs to grow from tradition which helps anchor people in their community.

A cluster of buildings opposite The Lowry Gallery on Salford Quays near Manchester look as if they are collapsing not grand upstanding buildings that exude confidence in our culture: more an outpicture of our collapsing civilisation.


One appalling fashion in architecture is the widespread fashion for apartment blocks that are layered or serrated and look like Hong Kong slums; mini versions of The Kowloon Walled City – The City of Darkness, they look hideous from the start and will soon be unwanted slums.

In a world that is decultured we often feel a need to find our origins and be anchored to something deep and important that invests our lives with meaning and stability. On a recent visit to Cambridge a young Indian woman sat next to me and we got into conversation. She told me how a recent visit to India to see her grandparents had put her in touch with her culture. I explained that that is why I go to historic (traditional) towns. It seems strange doesn't it? A man in his own country having to search for his culture!

Contemporary architecture dissociates people and makes them feel out of place in their home towns. Sheffield is a classic example and is being made ugly by new developments that have no relation to their surroundings or preceding buildings. If you talk to local people they are appalled at what is being done. It is as if the council have a grudge against them and want to destroy their city.


The Sheffield Blitz is the name given to the worst nights of German Luftwaffe bombing and many city centre buildings were ruined but could have been rebuilt in facsimile as they still should to restore the historic centre and thus the cities core identity. Sheffield people are the warmest most welcoming people you could meet and deserve consideration from their elected representatives.

The new buildings being built on Arundel Street repel not please. They are contemporary universal buildings – you could be anywhere.

Birmingham was re-developed in the early 1960s to make it an international city and most of its fine buildings demolished. Since then more beautiful buildings that the inhabitants were uplifted by have been replaced by buildings so hideous they depress people. Snow Hill station had a grand Great Western Hotel frontage, mosaic floors in the platform tea rooms, a vast underground booking hall and goods offices in with white salt-glazed tiles. Snow Hill was closed in 1972, the hotel demolished and an NCP car park installed between the platforms. The new Snow Hill station is a typical square lump of concrete.


Birmingham Central Library was modelled on Boston City Hall and its inverted ziggurat form is an example of Brutalism. Architect John Madin told internet magazine The Stirrer: "This whole group of buildings was designed with a pedestrian walkway with squares, waterfalls, and fountains and pools. We wanted the feeling of Paris or Rome, with open squares, and landscaping … instead of the linking landscaped squares I envisaged, they've filled the main square with cheap fast food shops like McDonalds so instead of becoming a civic square it became a cheap shopping centre." The MacDonalds now has to employ security guards to protect staff who are often rude to customers! Even if the council had followed Madin's plan it was still a copy of a Boston building and not in our tradition.


Manchester has beautiful buildings but they are being overwhelmed by standard new ones and to strengthen local identity the council should rebuild in facsimile some of the beautiful ones that were demolished.

The magnificent neo-gothic John Rylands library was founded by Enriqueta Rylands in memory of her husband in 1889 and is in the British tradition. It displays the St John Fragment, the oldest known surviving piece of the New Testament, dating from circa 125AD and the building reflects the appropriate solemnity.

She purchased books and manuscripts including the Spencer Collection of rare books and the Crawford Collection of manuscripts. It holds the small fragment of St John's Gospel, measuring less than nine centimetres high, which is part of the collection of Greek papyri.

It was by architect Basil Champneys and Mrs Rylands insisted that only the finest materials were used by traditional craftsman and that it incorporated new technology like electric lighting. Showing lack of respect for this internationally famous building the council have built ugly, cultureless, modern buildings on either side of it.


Manchester Town Hall is outstandingly beautiful and the beauty is created by pleasing angles and meaningful ornamentation. It is in the style of Victorian Gothic revival and uses themes and elements from 13th-century England. It is never dull, flat or square, or serrated like contemporary apartment blocks. The exterior is faced with hard Yorkshire sandstone known as "Spinkwell stone" and decorated with carvings of important figures from Manchester's history which gives it local significance. The interior is faced with multi-coloured terracotta and has painted ceilings.

Though built in the medieval style it shows how traditional architecture can use the technologies of its time the 19th century and is an example of what could be done now. It had gas lighting, and a warm-air heating system which provided fresh air drawn through ornamental stone air inlets placed below the windows and admitted behind the hot water pipes and 'coils' of rooms. The Warm, fresh air was fed into the stairwells through hollow shafts within the spiral staircases to ventilate the corridors the gas was in pipes concealed underneath the banister rails of the spiral staircases. If the Victorians could do it contemporary architects could. Glass walls are not efficient in conserving heat and draw birds to their deaths by reflecting the sky and fooling them it is a path to fly along.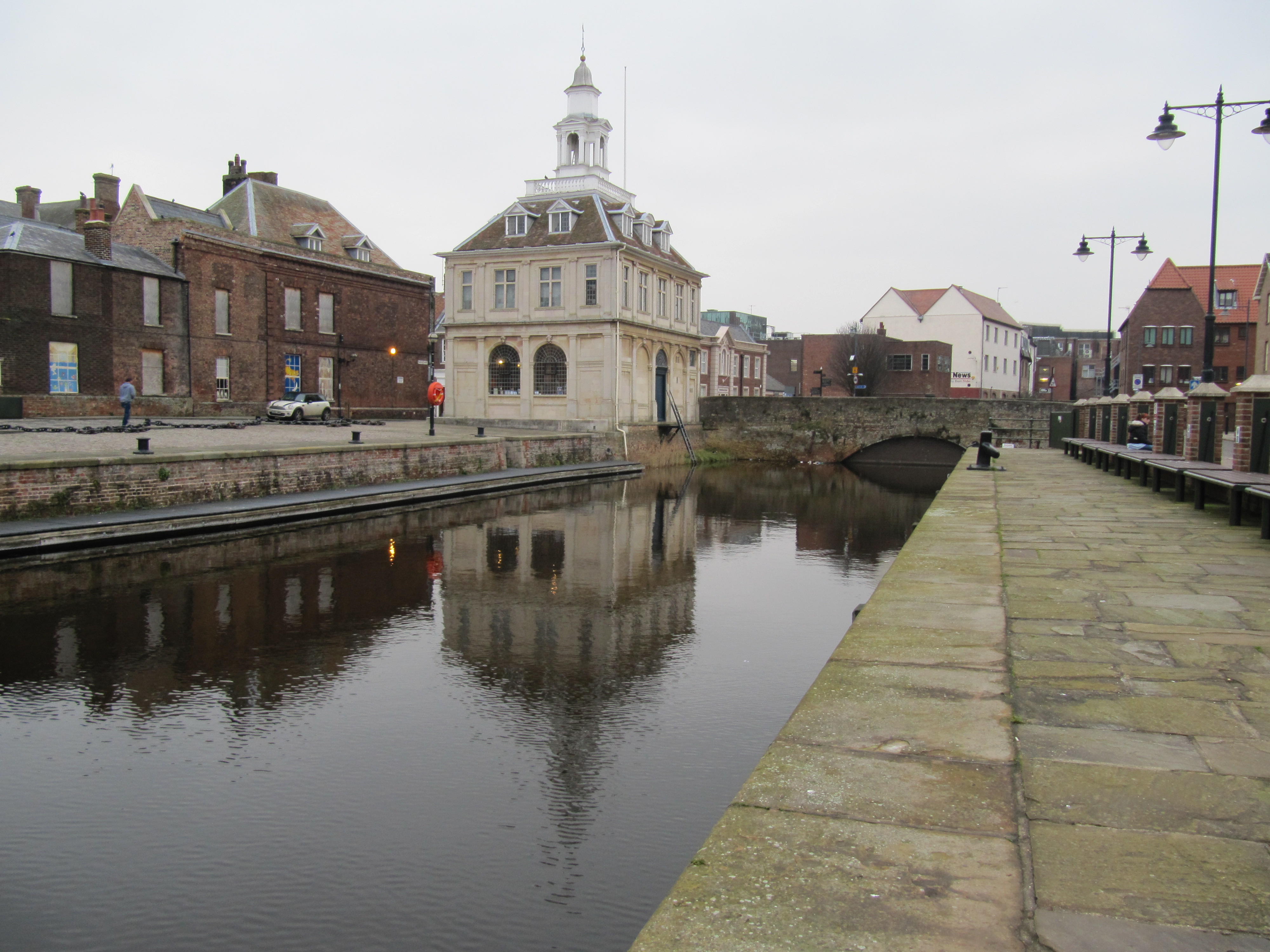 An example of how traditional towns are alive and not ossified or museums is Kings Lynn. It has rows of historic buildings near the Great River Ouse and in use. Architecture and history merge here and the locals have a living history and belong to something enduring. I often criticise councillors for treating their cities as personal property to dispose of at will but I must pay homage to a Kings Lynn councillor. She saw me rapt in taking photographs and came to ask me what I thought of the buildings. "Breathtaking" I replied. We talked about its beauty and she told of the fight to keep it and how many locals "don't know what they have". Unfortunately I was pre-occupied with photography and she was in company and so did not get her name. But I pay homage to this lady with both taste and the conviction to stand up for these marvellous buildings.

Well, what have they got? T. S. Eliot cherished the permanent things and St. Margaret's church gives that sense. The town grew around it and the market founded in 1101 by Bishop Herbert de Losinga of Thetford. There are several impressive late medieval merchants' houses in the town. This architecture is an inheritance of trade and it is still an active port. As I walked around the quayside I saw history alive and not a fossilised compartment separate from life because traditional buildings are in use.
The tide or moon clock on St Margaret's Church is unique, and there are three different 'clocks' on the Saturday Market Place. The carving of the 'witches heart' on number 15-16 in the magnificent Georgian Tuesday Market Place and a medieval toilet seat in the Town House Museum all details which give character and pleasing variety. The Custom House was built by Henry Bell in 1683 and overlooks the Great River Ouse. There are two Guildhalls which indicate how prosperous the town was and one, Trinity Guildhall, has a chequered front. The town's Regalia collection is kept within and the beautiful and priceless King John Cup is amongst them.

On the quay is the Green Quay Discovery Centre. Formerly, Marriot's Warehouse, it is an old Tudor Warehouse built in about the 1580s. It was used to store corn from visiting ships but is now a wildlife centre specialising in life on The Wash.


Much of King's Lynn's rich history is continuing and living. In addition to the architectural culture there are three market days the oldest of which began in the 12th Century and the King's Lynn Mart, a fair held each February which was granted rights to hold it by Henry VIII in 1537. Everything bespeaks continuity in this town not the severing of it as in Birmingham.

The steps in time I mentioned are given physical reality by Hampton Court, a Grade I listed group of buildings forming a quadrangular that developed over 300 years. The South Wing was built first and is mainly a 14th century merchants' hall house.

The West Wing was built near the end of the 15th century, probably as a warehouse. It was on the river's edge but the river receded by the 17th century and the warehouse was converted into a house.

The East Wing was also built near the end of the 15th century as shops and has had an arch added that leads into the courtyard. The North Wing was built a hundred years later and the courtyard was complete – a practical, organic tradition that is functional.
It is thought to be named after John Hampton, a master baker who became a freeman in 1645. Lynn went into decline in the 19th century and the building was neglected and dilapidated by the 1950s. It was saved by Mrs E. A. Lane who bought it and restored two of the wings, and the King's Lynn Preservation Trust restored the other two. It is now 15 dwellings.


An effect on locals of rebuilding cities like Birmingham and Sheffield to a vague, international idea is similar to the anomie described by the great French-Jewish sociologist Emil Durkheims. It helps cause a sense of futility, of no future, as it removes a lot of the grounding people need to thrive. But the use of traditional buildings maintains the town's core identity and gives local people a definite sense of belonging and well-being.
To comment on this article, please click here.
To help New English Review continue to publish critical and informative articles such as this one, please click here.

If you enjoyed this article and would like to read more by David Hamilton, please click here.