by Anum Sattar (January 2021)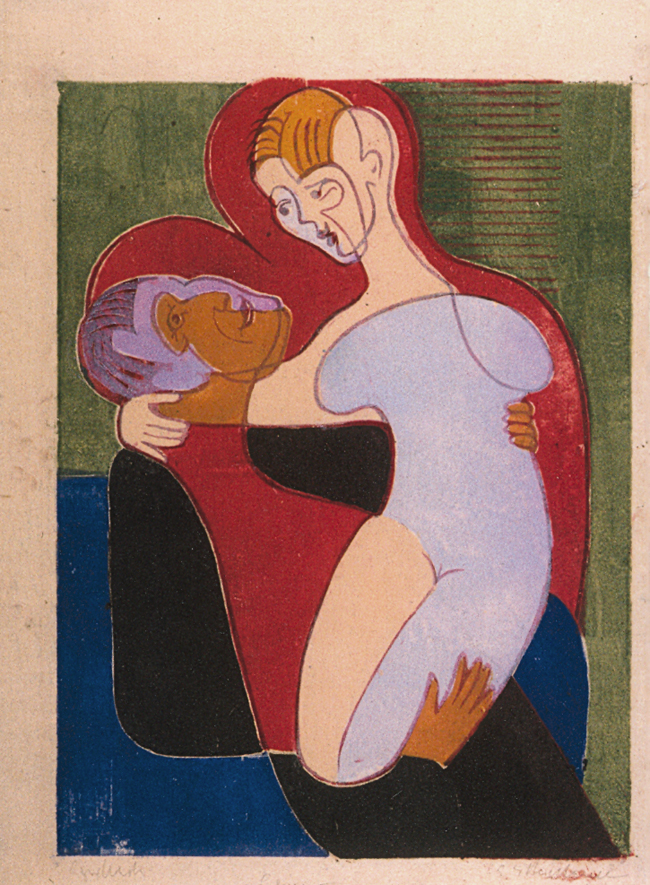 Liebespaar, Ernst Ludwig Kirchner, 1932
Here we are standing in my new boyfriend's messy apartment.
He strokes the back of my hand as I swallow an emergency
contraceptive tablet. 
Flinging the empty, recyclable cardboard box into the wrong trash bin,
Ryan tsk tsks, "Babe, we should have made love for one more
time before you popped that pill."
__________________________________
Anum Sattar is a recent graduate of College of Wooster in Ohio, where she won the first Grace Prize and third Vonna Hicks poetry awards. Her poems have been published in the American Journal of Poetry (Margie), Xavier Review, WINK: Writers in the Know, Literary Heist, Scarlet Leaf Review, Deep Overstock, and elsewhere. 
She has read her work at Brooklyn Poets, Spoonbill and Sugartown Bookstore, Forest Hills Library in New York City, Cuyahoga Valley Art Center in Cuyahoga Falls, OH, Bridgewater College in Shenandoah Valley, VA, Cabrillo College in Aptos, CA, Barnes & Noble, Webster, Texas, (sponsored by Cosmic Poets Society) and Cholla Needles' Shelter-In-Place Open Readings, and was recently interviewed at 17 Numa, Houston Pacifica Radio 90.1 FM KPFT, Radio Free Brooklyn and "Where Women Talk" by Nadia Giordana.
Follow NER on Twitter @NERIconoclast