From the Express
Officers fired at the knifeman around 6 am this morning, at a police station in Cornella, just outside the Catalan capital. The 29-year-old man of Algerian origins allgedly shouted "Allahu Akbar", according to newspaper El Pais, before attempting to attack officers.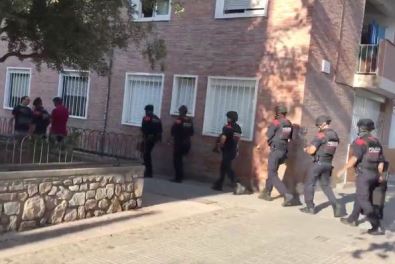 An officer at the reception of the police station is said to have pulled the trigger on the man. Emergency services arrived at the scene but were unable to save the attacker, who died shortly after.
No officer has been injured in the incident.
The regional Mossos d'Esquadra police said they are investigating the reason behind the attack. (Poor mental health? Spooked by traffic behind him? Distressed by Tommy Robinson and the 'far-right?) Barcelona police (above left) raided the attacker's home.
The man was born in Algeria but had a Spanish NIE, an ID for foreigners.