by Geoffrey Clarfield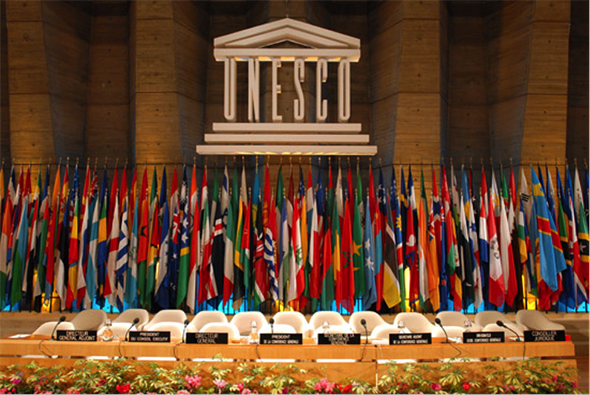 Millennials are enamoured by the United Nations. Consider the young undergrad, Antonio Soriano who is the UNESCO Delegate for the Harvard National Model United Nations of 2017. He writes:
"Dear Delegates,
Welcome to Harvard National Model United Nations 2017! My name is Antonio Soriano, and it is my honour to serve as the Director of the United Nations Educational, Scientific and Cultural Organization (UNESCO)…UNESCO aims to establish peace that is built not only on political and economic agreements but also on humanity's morality and the concept of intellectual solidarity…Don't hesitate to email me with any question."
So here is my question for Soriano, "How well does UNESCO do its job?" The answer is not very well.
AP Photo/Heng Sinith, FileIn this June 28, 2012 file photo, a police officer stands guard at Cambodia's famed Angkor Wat temple complex in Siem Reap province, some 230 kilometers (143 miles) northwest Phnom Penh, Cambodia.
Despite its penchant for making bizarre announcements about Zionism, or things like its now defunct, "new world information order," the core business of UNESCO is actually the conservation of natural and cultural sites around the world.
Most UNESCO heritage sites do not have management plans, budgets and priorities. The rush to bestow a site in a developing country with the UNESCO cachet very often creates unsustainable mass tourism. The ancient temple complex of Angkor Wat is a case in point. This formerly isolated archaeological gem in the jungles of Cambodia is now surrounded by 300 hotels. The sheer volume of visitors is destroying the site itself. But this is not the concern of UN bureaucrats. It does not matter to them if their programs fail or succeed.
Consider the sad case of the majestic pre-Columbian ruins of Monte Alban in Mexico's southwestern state of Oaxaca. The civil unrest of 2006 triggered looting and site destruction. Although the site has been on the UNESCO World Heritage list since 1987, somehow it has not made it to UNESCO's "endangered list." One must ask why? Indifference, incompetence or what?
Yvonne Jeffery/Calgary HeraldLocated a short drive from Oaxaca City, the ruins of Monte Alban once stood as the capital city of the Zapoteca civilization.
Then there is the case of Toshiro Nakamura, a wealthy Japanese businessman who lobbied to have an old Japanese mine site turned into a UNESCO heritage site. Before the site was registered it attracted 15,000 visitors a year. The year after it was registered, this remote area of Japan was overwhelmed by one million tourists. Despite all this, every year the governments of Canada and the U.S. still continue to give millions of our taxpayers' dollars to UNESCO.
The most recent and high-profile failure of UNESCO has been in Syria and Iraq. It is the express goal of the Islamic State to destroy as much of the pre-Islamic architectural past as possible. ISIL's most spectacular act of archaeological vandalism was when it destroyed the classical remains of Palmyra (a UNESCO World Heritage site) in Syria in October 2015. Its archaeological director, Khaled al Asaad, was recently beheaded by ISIL for refusing to show him where he had hidden pre-Islamic antiquities.
Another high-profile UNESCO failure involves Jerusalem: Following lobbying by the Organization of Islamic Cooperation, UNESCO now claims that there are no ancient Jewish monuments in Jerusalem.
Having failed to successfully and "sustainably" to protect the world's wild places and architectural heritage, UNESCO has now entered a new field called "intangible cultural heritage." This includes music and the field of ethnomusicology.
If UNESCO takes over this field, we can be sure that in the spirit of political correctness not all music will be treated equally. Will King David's Psalms, written in Jerusalem and still sung in the synagogues of Jerusalem and at the Western Wall (of the ancient Jewish Temple in Jerusalem) be labelled colonial, imperialist, historical and musicological fictions?
UNESCO has plans for Canada and other Western countries. It would like to put itself in charge of the education of our children, if we let it.  This is not a "Model UN." It is the UN muscling in on our schools and curriculum. If you go to the Canadian UNESCO website you will find ASPNET, its "associated schools project network." These schools in various provinces in Canada are supposed to endorse UNESCO's "values" and apparently adjust their curricula accordingly. On its website we read: "Build support and commitment to the values, work and principles of UNESCO from the school administration, the school district administration, the staff, the student body and parents…This includes designating a key contact for UNESCO activities at the school level, and where possible, at the student level."
More than 80 schools across Canada have joined this network. They would like hundreds if not thousands more to join them. I am hoping that if any of the supporters of ASPNET read this article, they will do their homework and write to Soriano. However, they should, first of all, pull their schools out of the ASPNET network and share with Soriano the realities of UNESCO; it is just another useless and grossly inefficient UN organization. Canada's $10-million-a-year UNESCO subsidy could be better spent within our own borders educating Canadian students about what really goes on at UNESCO, among other things. The UN is no model; nor should we encourage model UNs.
First published in the National Post.
Geoffrey Clarfield is an anthropologist at large.