From the Straits Times and The Express
JAKARTA (AFP) – Muslim-majority Indonesia will deploy nearly 200,000 security personnel nationwide ahead of Christmas to guard against potential terror attacks, police said on Tuesday (Dec 17).
The South-east Asian archipelago of 260 million has significant numbers of Christians, Hindus and Buddhists who have been targeted by radical Islamist groups.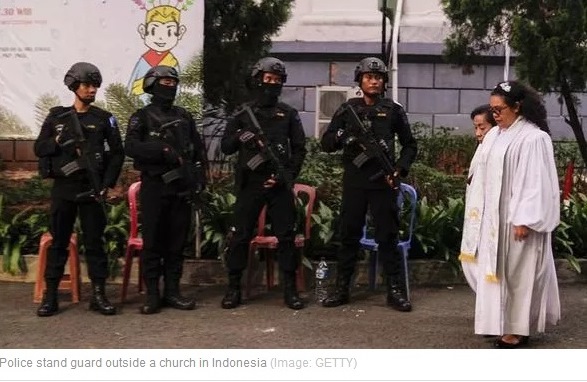 On Tuesday, the authorities said some 192,000 police and military personnel would be deployed to secure Christmas and New Year's Eve celebrations across the country – including in easternmost Papua, a predominantly Christian region. The chief of the National Police Traffic Corps said military personnel and "members of government agencies" would be guarding churches and tourist sites throughout the Christmas and New Year's celebrations.
"As many as 10,000 personnel will be deployed in Jakarta" alone, said National Police spokesman Argo Yuwono. "Based on intelligence data, there are potential risks… so we're taking preventive measures but we are also ready to take proactive action," he added.
Indonesia has seen a rise of Islam radicalism in recent years with the ISIS-linked local terrorist group Jamaah Ansharut Daulah (JAD) launching suicide attacks on churches.