Cairo – Islamic state claimed responsibility for a bomb attack that killed at least one person in Uganda's capital Kampala on Saturday night, the militant group said in a statement posted in an affiliated Telegram channel late on Sunday.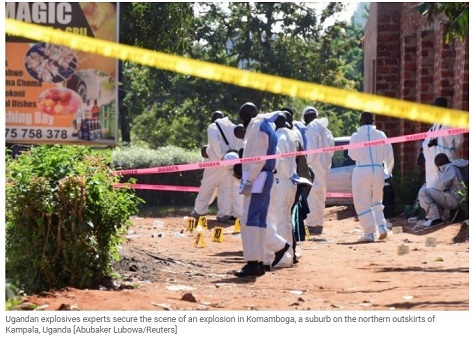 The group said that some of its members detonated an explosive device in a bar where "members and spies of the Crusader Ugandan government were gathering" in Kampala
A bomb packed with nails and shrapnel exploded at about 9pm (18:00 GMT) at a popular street-side restaurant strip, the Digida Pork Joint, in Kawempe division in Kampala on Saturday, according to police.  The explosion killed a 20-year-old waitress and injured three people, two of whom were in critical condition, police said,…the police said the device had been made using local materials, adding: "All indications suggest an act of domestic terror."
President Yoweri Museveni said Saturday's attack "seems to be a terrorist act". "The information I have is that 3 people came and left a package in kaveera (plastic bag) which later on exploded," he said in a tweet.