From the Sun on Thursday 
A MEMORIAL to murdered soldier Lee Rigby has been taken down for looking "unsightly". The shrine was set up outside the Royal Artillery barracks where Lee, 25, was killed in Woolwich, South East London. St George's and Union Jack flags along with banners and wreaths with heartfelt messages were tied to railings in tribute to Fusilier Rigby. But Greenwich council stepped into remove the unofficial memorial yesterday following complaints from residents.
But the decision has been slammed by some locals. Keith Bowels, 54, said: "It's absolutely disgraceful. When it first happened the council were talking about doing a memorial but now they have brushed it under the carpet. Lee Rigby fought for our country, he was walking along the road minding his own business and then they attacked him. The least he deserves is a permanent memorial, it should never have been taken down."
Patricia Thatcher blasted: "It's disgusting they should replace the flags."
Another fumed: "Wrong on many levels. You show so much contempt to the British people. Disgraceful. Have you no shame? Maybe all memorials should be removed, if that's your stance."
Great minds thought alike and tributes started to reappear on Friday. One of the first people to attend was Tommy Robinson and his cousin Kev Carroll.
More flags, banners and flowers came during Saturday, including a visit of Kent Division of the EDL.  And by the time the group of which I was a part, consisting of individuals, local residents and members of various patriotic groups reached the railings in Wellington Street they were a blaze of colour, despite the sleet turning to snow and the bitter wind.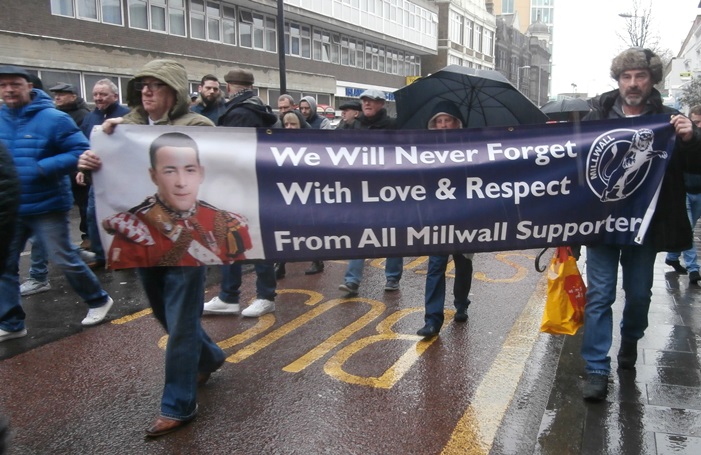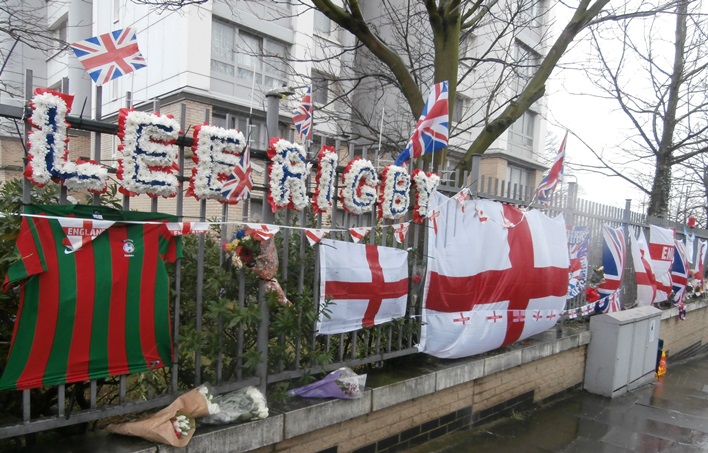 Getting the banners high enough required some balance and agility. Millwall are a south London football team with a fearsome reputation. Their nickname is The Lions; their ground is called The Den.
Other football fans support teams from further away
A group photo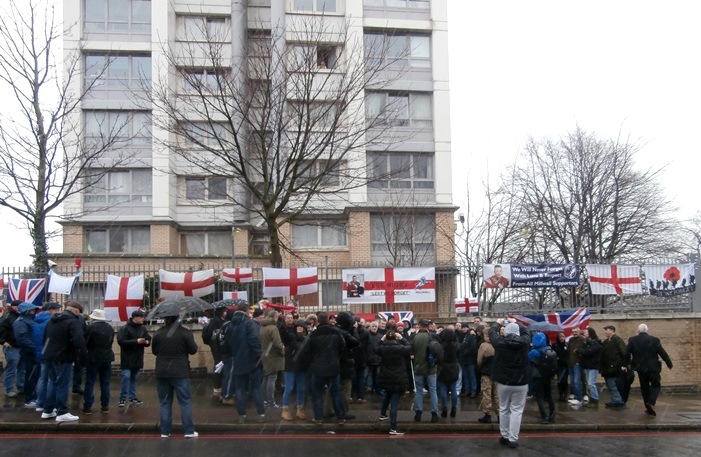 Three cheers in honour of Lee Rigby, Hurrah! And the dog said woof-woof.
Three boos to Greenwich Council – boo and the dog said woof-woof again. But somehow differently. Then we left the site looking like this
It's not the Cenotaph but Greenwich Council have repeatedly refused to allow anything other than his name on two lists; one in a book of remembrance at the Town Hall and the other a list at the Artillery Chapel nearby (which is currently closed). Some commentators can't see past the sincerity  and simplicity of this tribute. Others wonder what the Rigby family think. Mrs Rigby asked for a memorial bench in a nearby park but it was refused. She amended her request without his name; it was still refused. 
Rightly or wrongly Lee Rigby now stands for more than one young man murdered by jihadists. In the public mind his ah hoc memorial stands for every person in the country killed or maimed by jihadists. London Bridge, Westminster Bridge, Manchester Arena. Every little girl raped and prostituted and abused in towns up and down the country. Every gay man crippled outside a gay club by disapproving Muslims. Every RE teacher beaten within an inch of his life for teaching Muslim girls. The list mounts and the authorities can do their worst. We will not forget. 
Photographs E Weatherwax and RF London January 2018