From the Irish Times
Former Defence Forces member Lisa Smith has been denied bail after being charged with membership of Islamic State. The 38-year-old year old Dundalk woman was brought to Dublin District Court Number Four in the Criminal Courts of Justice on Wednesday morning by gardaí from the Special Detective Unit.
Wearing a black burqa and a winter coat, Ms Smith sat with prison officers for the 40 minute hearing.
Detective Garda Gareth Kane told Judge Colin Daly he arrested Ms Smith for the purposes of charge on Tuesday morning at Kevin Street Garda station. He said she made no reply when he put the charge to her.
Ms Smith is charged that under Section Six (1)(i) of the Criminal Justice (Terrorist Offences) Act 2005 which makes it an offence to join a foreign unlawful organisation.
It is alleged that between October 28th, 2015 and December 1st, 2019 at a location outside the State. Ms Smith was a member of a terrorist group styling itself the Islamic State of Iraq and al-Islamiyya. The charge also lists the other names for the group including "Da'esh" and the "Islamic State is Iraq and Sham".
The charge carries a maximum penalty of 10 years in prison, the court heard. Det Sgt Kane alleged Ms Smith had pledged allegiance to the terror group.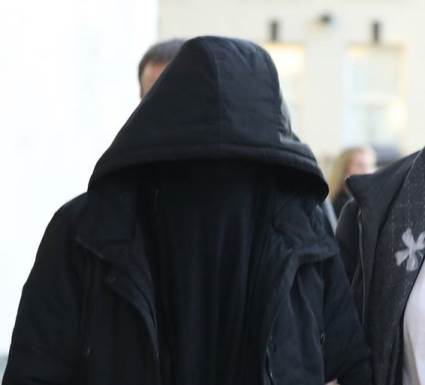 She made no reply to the charge and did not address the court during the hearing. She appeared with her face visible but pulled up her head covering a few minutes into the hearing.
Gardaí applied for Ms Smith to be remanded in custody pending trial on several grounds, including that she poses a flight risk. Det Sgt Kane said further charges may be brought against her in relation to alleged terrorist financing. Defence lawyers seek to have her segregated in Dóchas women's prison for her safety. Judge Daly said he would make a request to the prison governor.
The Times report is measured and informative. Several of the other Irish newspapers lead with the same emotive sentence, and open with her lawyers mitigation in her defence before moving onto the facts of the hearing almost as an afterthought. For example the Irish Examiner
Lisa Smith walked toddler daughter, 'through bombs, poverty, and cesspit camps' to come home, lawyer tells court. 
Her lawyer pleaded that the 37-year-old had come back to Ireland after walking with her toddler daughter, "through bombs, poverty, and cesspit camps, and desert, to come to her country of origin".
She was deported along with her daughter, aged two, from Turkey on Sunday, but was refused bail today. . .The Co Louth woman is denying the allegations and claimed she went to live in the declared Islamic State, and was following teaching of the Koran, after a period in her life when she had suffered severe depression and was suicidal,
Her child has been cared for by family members.