From the Mirror and the Mail on Sunday
Three members of the Rochdale child sex gang are back in the town two years AFTER losing the right to stay in Britain.
One is a father of five, a cabbie and a former teacher at a mosque. Another was known to victims by the sinister title The Master.
A girl who blew the whistle on taxi driver Qari Abdul Rauf and his accomplices said: "I thought Theresa May had organised his deportation, so how come he's still here? "I feel violated to know he's living near me – in the same area where he hunted for girls like me. It's a total betrayal of grooming victims that he's allowed to stay."
She spoke after pictures on social media showing Rauf, 51, in the Lancashire town. Dad-of-three Abdul Aziz, 49 – The Master – and Adil Khan, 50, live nearby after also being freed from jail. They were locked up in 2012. All three men have served their sentences.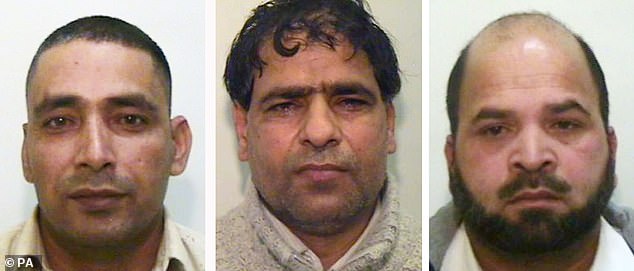 Left to right: Adil Khan, Abdul Aziz and Abdul Rauf have been revealed to still live in Rochdale, two years after losing the right to stay in Britain
The men are originally from Pakistan and the Home Office said in 2015 it intended to remove their British citizenship. In 2017 the men had appealed against moves by the Government to strip them of their British citizenship. But in 2018 their claims were dismissed on all grounds by the Upper Tribunal of the Immigration and Asylum Chamber.