Yet another one still has the nerve to show his face.  Early in 2020 I happened to be in Rochdale, only for the day,  to see Dippy the Diplodocus in Rochdale library on tour from the Natural History Museum. The town was dinosaur crazy that week; "This is the best thing to happen to Rochdale for years", I was told. "Even if we still have some of those 'b******d' characters walking about". Over a year and a global pandemic later and another convicted, supposted to be deported rapist, has been spotted at large. 
From the Manchester Evening News. and  The Sun
A member of the Rochdale grooming gang has been pictured in the town, six years after being told he would be deported. Qari Abdul Rauf, now 51, was one of nine men sentenced in 2012 for a catalogue of serious sex offences against vulnerable victims in Rochdale and Heywood.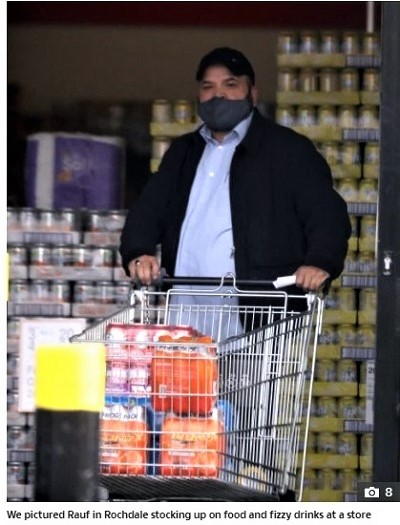 Taxi driver and Muslim preacher Abdul Rauf, 51, was convicted of trafficking and conspiracy to engage in sexual activity with a child. But after being freed on licence in November 2014 — after just two years and six months in prison — he returned home to his wife and five children.
In July 2015, The Home Office began the process of removing Rauf's British citizenship and those of two other men convicted alongside him – Adil Khan, 51 and Abdul Aziz, 50 – who all had dual UK-Pakistani citizenship, in order to pave the way for their deportation. The trio challenged the move, saying it breached their human rights and the rights of their children.
However in July last year the Manchester Evening News reported that it was believed they remained in Rochdale, with one terrified victim having bumped into her freed abuser Khan while shopping in Asda.
And in pictures published by The Sun today, Rauf has been reportedly captured on camera shopping in the town. Raof was said to have been stocking a trolly up with fizzy drinks at a store, as well as clutching a takeaway food delivery bag.
An onlooker said: "Perhaps he is working in a takeaway or as a food delivery driver. He used to ferry little girls around so his friends could have sex with them. Now he delivers fast food. It's awful to think a victim could bump into him — or he knocks on their door to deliver some food."
Maggie Oliver, the Greater Manchester Police detective who quit to speak out about failures in dealing with grooming gangs, called it "another kick in the teeth" for the victims after "pitiful" sentences. . .  the case "continues to expose monumental failures in our so-called criminal justice "system".