An all female Isil gang plotted to murder tourists at attractions including the British Museum, a court has heard. Safaa Boular, then 17, planned to "martry" herself  in a bomb and grenade ambush on the museum after her Islamic State fighter fiance was killed in Syria.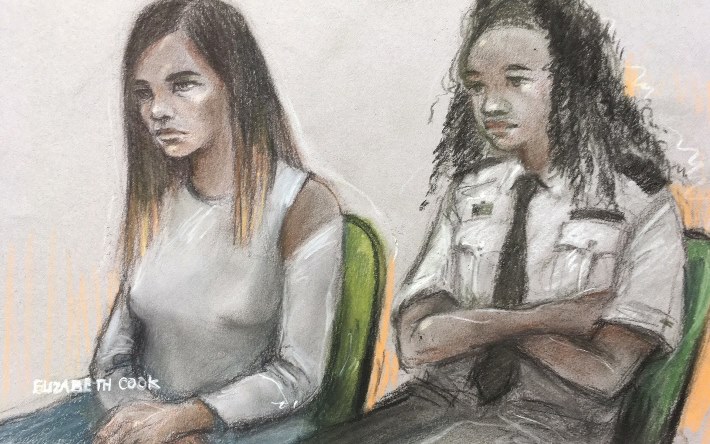 In what is alleged to be Britain's first all female terror plot, she was supported by her mother, Mina Dich, and elder sister and intended to carry out an attack using a 'tokarev', a type of Russian pistol, or a grenade, referred to as 'pineapples'.
But when Boular was arrested for an earlier attempt to travel to Syria to marry Naweed Hussain, she passed the baton to her sister, Rizlaine Boular, who began plotting a knife attack in Westminster. 
Rizlaine and their mother, 43, carried out reconnaissance around major landmarks in Westminster and bought a pack of knives and a rucksack, the court heard. But on April 27 last year – the day of the proposed knife attack around the Palace of Westminster – police swooped to arrest Rizlaine Boular, jurors were told.
The Old Bailey heard that both sisters had attempted to travel to the Syria to wed Isil fighters. Rizlaine was caught in 2014 but never charged and was returned to the UK, whilst her younger sister attempted to make the journey two years later. She had declared her love for Hussain after the couple had been chatting on social media for just three months, prosecutor Duncan Atkinson QC said, and she planned to travel to Raqqa where they would don suicide belts and in her lover's words "depart the world holding hands and taking others with them in an act of terrorism," jurors heard.
After police uncovered Safaa Boular's plan to travel in August 2016, she allegedly switched her attention to Britain, keeping contact with Hussain on a secret phone through encrypted Telegram chat.
Their mother provided "positive assistance and support" to Rizlaine, knowing she would commit a knife attack, but did not necessarily understand it would involve death or injury, the court heard.
Police recovered extremist material from her phones, including photos of women holding AK47, one of a child wearing a suicide belt, and images and videos of beheadings, the court heard. She also had an image captioned "Sisterhood in jihad, where we fight together get martyred together and fly together inshallah" and revealed to police she had struck up a friendship with Isil's female recruiter, Umm Isa Al-Amriki, who was based in Aleppo. 
Covert recordings from her mother's home in Vauxhall, south west London, show her laughing about laying flowers at Westminster Bridge after the terror attack there, the court heard.
Rizlaine Boular, 21, of Clerkenwell, central London, has already admitted planning an attack in Westminster, allegedly involving knives and with the help and support of their mother Mina Dich, 43, the jury was told. Safaa Boular, now 18,  has denied two counts of preparing acts of terrorism.