Hat tip Investigative Project on Terrorism
by Gary Fouse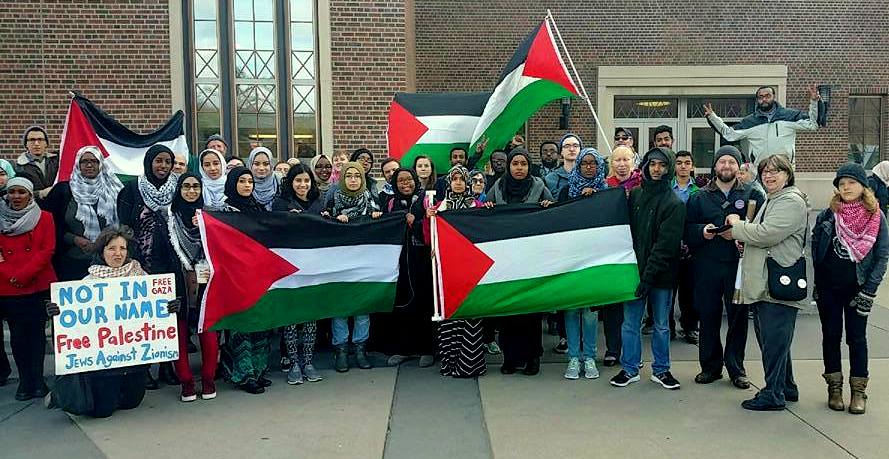 For some time now I have been writing about the nationwide activities of Students for Justice in Palestine, an organization with well over 100 chapters at universities across the nation.The organization was co-founded by University of California professor Hatem Bazian, a native of Nablus in the West Bank. Bazian studied at San Francisco State, where he was an agitator against Israeli. He is also the co-founder of American Muslims for Palestine (which supports SJP), the Islamophobia Research and Documentation Center at UC Berkeley, and Zaytuna College, the first Muslim college in America (located just off the UCB campus). American Muslims for Palestine has been tied to support groups for Hamas-a US State Department -designated terror group. They are currently the subject of a lawsuit filed by the parents of David Boim, an American teenager killed by Hamas in Israel in 1996.
Since its inception, SJP has utilized brown shirt tactics of bullying and intimidation against Jewish students who support Israel. These tactics include putting fake eviction notices under dorm  room doors of Jewish students and disruptions of pro-Israel meetings and events on campus. They are a prime mover behind the ubiquitous Boycott, Divest and Sanctions movements on college campuses targeting companies that do business with Israel. They work hand in hand with various Muslim Student Association chapters in their agitation against Israel. In fact, those MSA members who are anti-Israel activists also tend to be SJP members. SJP, unlike the MSA, accepts non-Muslim members. In 2010 after the UC Irvine Muslim Student Union was suspended for its disruption of the Israeli ambassador to the US, Michael Oren's speech, an SJP chapter was conveniently formed on campus. Twice in the past year (May 2016 and May 2017), SJP has led other student groups in disrupting pro-Israel events at UCI. The most recent incident (May 10) was videotaped by this writer, who was present.
This is not a case of SJP chapters whose members get out of control due to a particular event. These incidents are planned. In 2014 a document emerged authored by the SJP chapter at State University of New York at Binghamton in which  disruptions of pro-Israel events were listed as one of their tactics. Also, in 2014, SJP at Northeastern University in Massachusetts was suspended for distributing fake eviction notices. Other example are too numerous to list here.
In addition to SJP, the Muslim Student Association chapters on various campuses have also been guilty of planned disruptions and bullying of Jewish students. Arguably, the most notorious chapter has historically been that of UC Irvine, where I taught part-time for 18 years (1998-2016). For the past 10 years I have personally observed their annual hate  fests against Israel every May. Since the founding of the UCI-SJP chapter in 2010, the two groups have worked in tandem to disrupt pro-Israel events, such as the annual campus I(srael-Fest. In addition, over the years, they have sponsored a litany of anti-Israel (and anti-American/anti-Jewish) speakers such as Abdul Alim Musa, Mohammed al Asi and Amir Abdel Malik Ali-all radical imams who have appeared at UCI and numerous other campuses to spew hate. People who have videotaped MSU activities at UCI have had cameras shoved in their faces and have been followed back to their cars where their license plates numbers have been written down. The MSU at UCI has given the school a black eye for years. Many, like David Horowitz, have described UCI as the most anti-semitic university in the country-thanks to the MSU.
In my view, the MSU at UCI-and most likely other universities as well- uses SJP to do their dirty work as they (MSA/MSU) pose as a religious group that also works for "social justice". It is useful to note that the notorious Memorandum of Explanation, a document seized by the FBI in 2004 and introduced as evidence in the 2007 Holy Land Foundation trial, was written from the Muslim Brotherhood in Egypt in 1991 and addressed to its affiliated organizations "North-American Brothers", which included the Muslim Student Association.
Clearly, students who join an MSA chapter in 2017, many for legitimate reasons, cannot be held responsible for what members of their chapter did years earlier. However, now that there is a new administration and a new Justice Department in power, it is time for a historical investigation into these two organizations to be conducted. In my mind, in addition to our conspiracy laws, a RICO investigation might be warranted. Not only do these groups have ties to Hamas and other terrorist organizations in the Middle East, they are engaging in orchestrated campaigns to deprive other students and their organizations of their first amendment rights as well as engaging in tactics of intimidation. The so-called Irvine 11, those who disrupted the Michael Oren (Israeli ambassador to US) speech at UC Irvine in 2010, were arrested and successfully prosecuted. (One of them, Taher Herzallah, is today campus coordinator for American Muslims for Palestine. He was most recently seen disrupting the confirmation hearing for the new US ambassador to Israel, David Friedman.)
Universities have shown time and time again that they are unable or unwilling to deal with these groups. It is time for the law to step in at the federal level. The incidents in question have been documented for years. As a retired DEA agent, I know that a good team of conspiracy investigators can put it all together. The targets are not necessarily the students. The real targets are the organizational leaders and their alleged ties to Hamas and other terrorist organizations. These are not just people whose only sin is opposing Israel. It is the organized use of illegal tactics of intimidation and disruption that makes this prosecutable in my opinion. To be sure, it will take the will of the Justice Department to move forward. The previous administration and Justice Department did not have that will. Hopefully, this administration and this Justice Department do.