Some charities. Not necessarily charities that were going to be offered a portion of the MEP salary (thinking positively that he is indeed elected) From the Guardian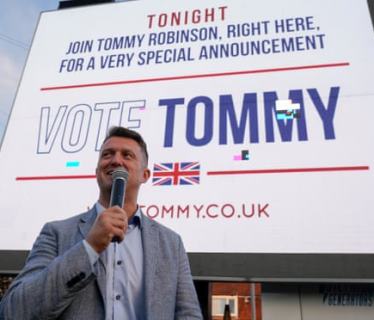 Tommy Robinson's pledge to donate his hypothetical European parliament salary to child victims of sexual grooming has been criticised as "an insult to survivors of abuse" by women's groups who said he was "no ally for the children he claims to stand up for".
More than 40 women and charities including the End Violence Against Women and Girls Coalition declared in a letter to voters and community leaders in the north-west that they would not accept money from the English Defence League founder, criticising Robinson for "factually incorrect messages about grooming".
"We, as organisations and individuals fighting tirelessly against the abuse of women and girls, as survivors of abuse and their families, and as people who care about our communities, do not want your money, Tommy," the letter read….
"Tommy Robinson's factually incorrect messages about grooming, and his attempt to portray himself as a champion of the cause, are an insult to survivors of abuse.
"They are also a profound insult to the women who have spent their whole lives building support services for survivors and working to ensure some cases finally got to court. Where were you during that work Tommy Robinson?"
Signatories also included author and Women for Refugee Women founder Natasha Walter, Rape Crisis Surrey and Sussex, Rape Crisis South London, the Women's Centre Cornwall and Gurpreet Virdee, a director at the Women and Girls Network.
I might ask where were you Natasha Walter and Rape Crisis Surrey, Sussex and South London?  Who was in, for example Rotherham as the most famous town, to help the abused girls. Well 'Women for refugee Women' were not set up to help working class girls of the indigenous population. I'm sure they are well-meaning and do a lot of good, but by their very name the indigenous population of England is NOT their client group. And the cynical amongst us might wonder do Miss Walter's books subsidise the charity or does the charity publicise the books? 
Matthew McGregor, from anti-racism campaigners Hope Not Hate, said: "This is one of Tommy Robinson's most cynical stunts. Abuse survivors don't need someone whose main interest is in funding his already lavish lifestyle and spreading hatred."
"They need to think of the victims, not of their own politicisation of the situation, that money is to go to any victims of sexual exploitation, including Muslims," Robinson said of the letter's signatories. "They are in no position to turn down money, they shouldn't be. They should be in the position to help victims and if that money helps victims, which it does, gets them off the waiting list for counselling, then they are playing with the victims, not me."
From the Rotherham Advertiser in December
SEXUAL assault victims are waiting up to 14 months to access counselling and the sector is struggling to keep up with increasing demand, MPs have said. A report by the All Party Parliamentary Group (APPG) on funding and commissioning of sexual violence and abuse services said the sector was struggling to maintain sustainability amid "a chaotic funding landscape". 
Rotherham MP Sarah Champion, APPG chairwoman, will launch the report this afternoon in Westminster.
The report states that sexual violence and abuse victims can wait up to 14 months to access counselling at Rape Crisis centres, and the sector was struggling to keep up with demand.
Ms Champion said: "In its 2016 report, Ending Violence Against Women and Girls the Government committed that by 2020, no victims would be turned away. It should be a Government priority to sort out the funding of these vital services with great urgency or it will miss its own target…" Doesn't sound like they are in a position to turn down a donation. Lets look at what was available for a teenage (or in some cases pre-teen) girl in Rotherham who was vulnerable, being abused, raped etc. over the last 15-20 years. 
Karen MacGregor, 58, offered what appeared to be a safe haven for troubled teenagers in Rotherham. As a carer, she was a familiar and trusted face at children's homes across South Yorkshire. She lured two of the victims into her house, befriending them and behaving like a second mother but then forcing them into sexual relations with men who would hang around the house. . . several young girls into the hands of the Hussain brothers – known as Mad Ash, Bash and Bono. 
One of the victims described MacGregor's house as akin to akin to the Hansel and Gretel fairy tale, inviting to begin with but soon descending into terrifying sexual crime. She told the jury how she felt MacGregor was like a second mother, listening to her problems, buying her food and clothes. But within days she was assaulted. She was plied with vodka and after passing out awoke to find a man abusing her.
MacGregor allowed the girls to be abused and kept captive, telling them they needed to "earn their keep" by having sex with a succession of visiting men.
She even went as far as to establish a support group – called Kin Kids – for family members looking after children whose parents could no longer cope. Kin Kids, which had the support of Wentworth and Dearne MP John Healey, was due to be given charitable status when MacGregor was arrested. Other branches of Kin Kids were set up around the country and I have every reason to believe that the women involved elsewhere genuinely worked for the good of families trying to deal with difficult and tragic circumstances. MacGregor went down for 13 years. 
Then there is Shafina Ali a white convert to Islam about whom I have been able to find out very little, other than that she died in 2009. This report ahead of a BBC Panorama is from 2015
One of those abused as a child told the programme that she had initially been groomed for abuse by men by Shafina Ali, a white woman who told people she had converted to Islam. This name also appears in documents, seen by Panorama, which describes Shafina Ali – who may have used up to four different names – as an associate of men viewed as key abusers.
She worked for taxi firms in Rotherham and was said to be trying to set up a cab company to transport schoolchildren.
A former Rotherham social worker, who wishes to remain anonymous, told the programme that she had been newly qualified when she had first been told about Shafina Ali.
"I was given the information that this particular woman was dangerous and that she had set up a fake rape crisis centre," she said. "I believe it was in Sheffield or on the outskirts of Sheffield and that she was potentially luring young girls through this rape crisis centre." Panorama has been told that it had involved a fake helpline, which was closed down in 1999.
But two years later, Rotherham social workers were worried that Shafina Ali was again targeting vulnerable girls.  The social worker said Shafina Ali "was quite aggressive with me" when called to a meeting. "I was quite worried, I was quite frightened of her really," she added. She said front-line staff had done their best, raising concerns about Shafina Ali at strategy meetings with police and senior council officials.
There is the historic view of the victims of the rape/prostitution gangs held by certain police officers, social workers and council officials. They didn't see the girls as rape victims at all. 
Despite similar high-profile cases in Rochdale and Rotherham, authorities in Telford ­repeatedly failed to stamp out a network of abusers. . . Council staff viewed abused and trafficked children as "prostitutes" instead of victims, according to previously unseen files
The girl …says she reported her abuse to the council and school but does not believe action was taken. She says her doctor said she was mentally ill and should take medication.
When Professor Alexis Jay published her investigation into Rotherham abuse last summer, she criticised the police and council for their failure to take victims seriously. "South Yorkshire Police regarded many child victims with contempt," she wrote.
The police told Maggie (a mother)  that Sarah's (her daughter) behaviour was a "lifestyle choice"…She's similarly disgusted by her two social workers, who used to moan about their caseload and treated both Sarah and her mother with disdain. . . Sarah was briefly moved to a care home, the staff there were fully aware of the abuse but would ask, "Who are you sleeping with tonight, Sarah?," as though paedophilic rape was an acceptable norm.
"Even five years ago, people were talking about the 'lifestyle choices' these young people were making," says Adele Gladman, the Home Office researcher who reported the scale of abuse in Rotherham.
The one group that was trying to do good for the girls in Rotherham during this period was Risky Business. When that Home Office researcher (above) was working with them  she wrote a report containing the information that showed that Muslim men were consistently raping under-age white working class girls. She was reprimanded and told never to bring up that little fact again. 
"She (a council official) said you must never refer to that again. You must never refer to Asian men. And her other response was to book me on a two-day ethnicity and diversity course to raise my awareness of ethnic issues."
Later her computer was accessed, files were removed or altered, somebody got into her office and removed hard files from the filing cabinet. 
A social worker began sending all the evidence the team were collecting and sending it to what they believed was a secure 'drop box' at the police headquarters. They later found that this was a "digital wastepaper basket. All the time and effort we'd spent passing information to the police, and not a scrap of it had gone anywhere."
Risky Business was shut down in 2011 because Rotherham Council deemed it to be 'a nuisance'. Four years later there were efforts to re-open it as it was needed more than  ever and there was talk of a £250,000 grant towards reinstatment. That may well be what Tommy has in mind. Fear not ladies of virtue running your projects in areas where the gangs have not yet been uncovered – you will not be corrupted by  filthy EU lucre.