From the Eastern Daily Press
The University of East Anglia (UEA) students learned a week before Ramadan, through an unofficial source, that they were to temporarily lose their prayer room due to a £2m refurbishment of its main lecture theatres.
Instead they were offered the Multi-Faith Centre for their main Friday prayers, even though a university report in 2014 deemed it inadequate for that purpose.
Students will also be able to use the university's Blackdale main hall in the evenings. They will also be able to use them for Friday prayers, but only when exam season is over.
A UEA spokesman said: "As part of a £2m investment in new library study spaces and the complete refurbishment of the university's main lecture theatres the use of a prayer facility near Lecture Theatre 2 will be temporarily unavailable for safety reasons during the building works.
"That facility will become available to Muslim students again from the beginning of the new academic year. A working group has been established to consider longer-term solutions."
The Muslim students sat together in the centre of the square for one of their daily prayers in demonstration at the change. They were joined by non-Muslim supporters, who joined hands and encircled them in a bid to show solidarity.
Former president of the Islamic Society at the university, Meanha Begun, said: "I have been part of the Islamic Society here at UEA for a number of years. To me it means everything to have an adequate space where we feel respected. We hope this demonstration will be enough for UEA to hear our voices. We want permanent prayer facilities."
Student Amina Abdul-Aziz said: "I feel it's my duty to stand up for my faith. . . We cannot allow this. As Muslims our day is planned around five times of prayer. It means a lot to us. Prayer is the centre of our student life. It will affect our wellbeing."
Leaving aside that this is a temporary measure so as to improve learning facilities for all students, the reaction of the Muslim students is predictable. We can't have everything that we feel entitled to, exactly the way we want it; therefore we will make a nuisance of ourselves by praying in the public space and impeding free access for other site users. The usual idiots of the enabler multiculturalists stood round them in solidarity. And below is what they were in solidarity to support. 
At an English University, a centre of learning where my own daughter might be studying had she not turned down their offer in favour of one she prefered, young women kneel at a distance in an inferior position behind the men, where the men's prayers will not be negated by their presence.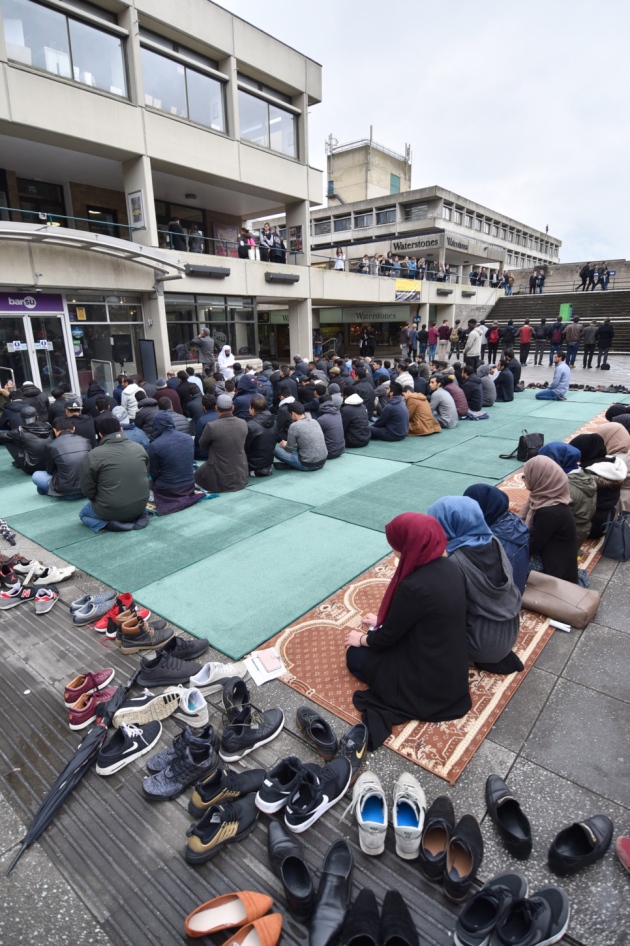 On the bright side, the readers of the EDP are not impressed and are saying so with confidence and knowledge.