by Jeffrey Burghauser (March 2018)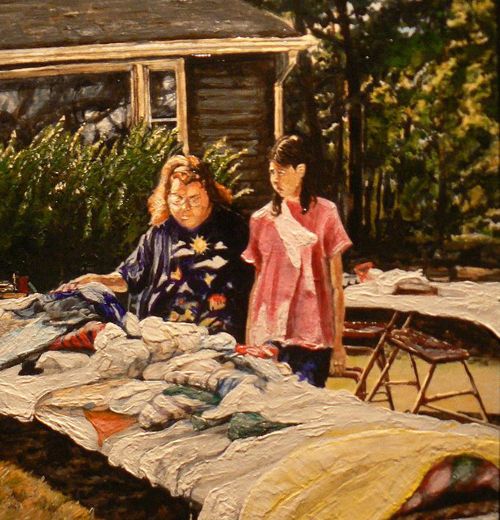 Bargain Hunter, Thomas Akers
Appalachian Still Life
 

here the road was drawn outside the lines
In a herniated smudge of dirt
And gravel, folks (many in the shrines
Of damp valley light the moss-boughs let
Fall) congregate around the hoods
Of their cars, across which there are draped,
Smelling of food service & of woods,
A lot of clothes, wet-looking & unshaped.
I see nobody buying anything,
And a correspondingly lax drive
To sell the stuff. This affect that they bring—
Canine, somehow only half-alive.
Let us bless these quiet hills of slate
And the men they so out-animate.

Old Faust, Salvador Dali, 1968
Each
 

atan's soliloquy in Book Four,
Faustus's valedictory speech,
And Claudius's semi-prayer that bore
Him brief, inadvertent safety—each  
Of these tracts on how to exist in
The thin, bleached strata of a mind-sized
Sin . . . each of these three is a piston
In an engine highly specialized.
 
Animated by combustive spurts
Of Paganini, a single lo-
Comotive whose greying roar begirts
The night rises from the Great Below.
 
Babies, banjos, birdsong, depth & weight:
There is nothing that it won't negate.
 

___________________________________
Jeffrey Burghauser is an English teacher in Columbus, OH. He was educated at SUNY-Buffalo, the University of Leeds, and currently studies the five-string banjo with a focus on pre-WWII picking styles. A former artist-in-residence at the Arad Arts Project (Israel), his poems have previously appeared in Appalachian Journal and Lehrhaus.
More by Jeffrey Burghauser here.
Please help support New English Review.