by Gen. Abakar Abdallah,[1] Jerry Gordon and Deborah Martin[2] (December 2016)
The Islamic Republic of the Sudan Objective is to Establish a Caliphate
Composed of Sudan, Chad, Central African Republic Niger and Mali
Just after the election of President-elect Donald Trump, Dr. Walid Phares, his principal advisor on Middle East Affairs, spoke before a group of American Sudanese Nuba émigrés in Washington, DC. Eric Reeves of Amnesty International wrote in a November 15, 2016 column in the Sudan Times about Phares' statement. He speculated on what the Trump Administration might accomplish in the first 100 days to address the genocide by the corrupt Bashir regime:
He said America under the leadership of Donald Trump would not tolerate what he called abuses practiced by the Khartoum government against its own citizens. Furthermore, he added that there is no reason why the United States and its European allies should lift the economic sanctions on Bashir's regime established in 1997 in light of the continued violations in Sudan. Moreover, Mr. Walid Phares indicated that they will work with the international community during the first hundred days to end the crisis in Darfur, Blue Nile and South Kordofan.
Mahmoud A. Suleiman wrote about the duplicity of President Bashir's outreach to President – elect Trump, in another Sudan Times op-ed, "Bashir's call for mutual cooperation with U.S. Trump:"
It is pathetic that Omar al-Bashir offered congratulations to the U.S. President-elect Donald Trump and looked forward to cooperate with the new US president. The NCP Génocidaire Omar Hassan Ahmed al- Bashir forgot or ignored the mere promise of achieving democracy for the people of Sudan. This style of political discourse is not surprising in the era of the unratified [27-year] ruling regime of the National Congress Party (NCP). The regime has decided during the so-called Wathba dialogue or National Dialogue Conference in Khartoum on October 10, 2016 that Omar al-Bashir will continue as President of Sudan until the year 2020 without being democratically elected by the disenfranchised.  There is no comparison between this and what happens in the United States of America. The comparison between what is followed democratically in the United States of America and the dictatorship in Sudan is neither fair nor appropriate.
[…]
President–elect Donald Trump confirmed during most of his campaign that he would declare the war on radical Islam. The peaceful way employed by President Barack Obama in his diplomatic relations with the radical Islamist duo Khartoum and Tehran and called the "Obama's approach", was exploited by the Sudanese regime and Iranian governments seems to have approached the end. Since the Islamic countries found in the Obama regime simply a break from the George W. Bush Presidency's ultimatum that puts clear: "either with us or against us". Thus, that honeymoon period might be approaching an end.
President Bashir wrote President-elect Trump as the "duly elected" President of the Islamist Republic Sudan. His faux election in 2011 was conducted in accordance with Sharia in that only Muslims in the Khartoum capital region could vote for him as President of the NCP regime.  African tribes elsewhere in the Sudan in Darfur, South Kordofan and the Blue Nile regions are not considered Muslims and therefore ineligible to vote. The NCP Khartoum central government propaganda is that these regions do not recognize the fraudulent election of President Bashir, which it contends is recognized as the 'legitimate' government, internationally.
The problem that the incoming Trump Administration faces is that President Bashir is mobilizing an enormous Jihad army poised to perpetrate the final destruction of resistance forces in both the Darfur and South Kordofan regions of the Sudan. The fighting season in the Sudan has begun. Bashir and his National Congress Party (NCP)-led government have already unleashed attacks on November 24, 2016 in the Nuba region of South Kordofan, a prelude to conquering the area. At the same time, he is facing civil unrest in the capital of Khartoum, where troops are preparing mass graves for the expected slaughter of protesters over the failure of his domestic economic policies. Opposition in Khartoum has called for a three-day strike, reported on November 27, 2016, protesting fuel shortages. The Bashir security forces have begun using tear gas against protesters with worse consequences to come.
His agenda is to cleanse these regions of African tribes for resettlement by the families of the Orwellian-named "Peace Force," formerly the Janjaweed, composed of foreign mercenaries, and then to exploit precious metals resources in the Nuba Mountains and Jebel Amir gold mines in North Darfur. The Khartoum regime 'ethnic cleansing' of Darfurians in the Jebel Marra region was described in detail by Gen. Abdallah in our November 2016 New English Review interview with him, "Only Regime Change Can Stop Sudan's Genocide." What follows is a situation report (SITREP) on what is happening in the Sudan. The corrupt Islamist regime of indicted war criminal President Omar Bashir is seeking, with Arab countries financing and support, to create a massive Jihad army. He will soon launch a campaign to create by armed force a Caliphate across sub Sahara Africa ruled under Islamic Sharia law.
Mobilization of 150,000 Men to Complete Destruction of Darfur, Nuba and Establish Caliphate
The Sudan regime uses tribes and terrorist groups to fight proxy wars for the benefit of the National Congress Party (NCP) regime in Khartoum and Arab Coalition partners. In January 2016 the Khartoum government mobilized 9,000 men composed of Janjaweed militias, ISIS operatives, Lord Resistance Army fighters from Uganda, Boko Haram from Nigeria, and al Shabaab of Somalia, Mali Jihadists, and Sudanese armed forces. The combined force attacked Jebel Marra using chemical weapons. Since then the recruitment has not stopped as the regime continues to recruit people from Arab tribes and bring in foreign terrorists to fight beside the Sudanese government army. Over the 15-year-old Darfur crisis, the NCP regime mobilized Arab militia forces of 10,000 to 30,000 each year. However, the mobilization this time is different in terms of numbers, parties involved, and overall objectives.
The regime has changed the name of the Rapid Support Forces into Kuat al Salam (Peace Forces). The new recruitment is being done under that name. The reason for the name change was to eradicate the references to the Janjaweed and Rapid Support Forces that most people in Darfur and the international community knew were committing genocide, war crimes, and human right abuses. The name change amounts to Orwellian Islamic taqiyyah – religiously condoned dissimilitude – lying for Allah – to deceive people in order to join up for training, especially among non-Arab youths.
The regime's strategy is to mobilize 150,000 men for the Darfur attack to eradicate the people of Darfur and overthrow the adjacent government of Chad. They maintain that all Zagawa are the same and even if they killed all Zagawa of Darfur (Sudan) and left those of Chad they have done nothing. The objective behind this massive mobilization of a veritable Jihad army of 150,000 men is to destroy the Zagawa and overthrow the governments of Chad, Niger, Mali, South Sudan, and the Central African Republic establishing a Caliphate in Sub Sahara Africa. There are an estimated 400,000 Zagawa African Muslim pastoralist people spread over Darfur in Western Sudan (145,000), Chad (271,000) and Libya (10,000). The name Zagawa is derived from the type of sheep raised by the ethnic group. They usually refer to themselves as the Beri people. The Tuareg Jihadist Ansar Dine group operating in the Azawad region in Northern Mali is tasked to take over Mali. Some factions of the SELEKA rebels commanded by people of Arab origin will be tasked to liberate the Central Africa Republic. The plan is that South Sudan will be liberated by Riek Machar and supported by the South Sudan Islamic Liberation Movement led by Ali Tamim Fartak. Fartak was a member of Muslim Brotherhood Organization and National Congress Party prior to South Sudan's independence. There are also 8,000 militiamen currently grouped in D'ean, the Eastern Darfur region, prepared to attack south Sudan.
If that objective were attainable, it would change the map of Africa. The area from South Sudan to Mali would constitute an African Caliphate. The Khartoum regime is preparing to field this massive Jihad Army to fight and occupy this swath of sub-Sahara Africa to be administered under Islamic Sharia law.
Saudi Arabia, Kuwait, and Qatar would provide funding and political guidance, while Sudan would organize the Jihad mercenary army, conduct training, and provide operational control. Training camps are located in the Azawad region of Mali, Libya and Darfur.
According to our sources Sudan has already mobilized 30,000 men in Darfur and recruited thousands of others in both Sudan and contiguous Chad. Khartoum has airdropped supplies of weapons such as AK-47s and RGPs for this basic force. They have already provided 2,500 Toyota Hi-lux pickup trucks that will be used for military operations. 500 additional Toyota vehicles are on the way.
In order for the Khartoum regime to achieve its recruitment goal, they openly recruited men for the "Peace Forces in Darfur." They have also secretly recruited personnel in Chad and sent them to Sudan for training. They are exploiting the current financial crisis of the government of Chad. For months now people have not received their salaries and there is anger. People are protesting against the government. The Khartoum regime pays 30,000 SDG per person and a similar amount or more to middlemen.
In Chad the payment to recruits for the so-called Peace Force varies. It is based on the different status of an individual as between cadre and an ordinary recruit. For some cadres they pay a million CFA about $2,000 USD while others receive 500,000 CFA, which amounts to about $1,000 US dollars. Cadres that cannot travel directly to Sudan are sent to West African States of Niger, Senegal etc. and from there fly to Sudan. The operation is well coordinated with Sudan, Saudi Arabia, Kuwait and Qatar governments, and is supported by political parties and private organizations in Chad.
There is one political party named Militants' Party for Unity and Development (Parti des Militants pour l'Unité et Development). Khalil Ali Osman is the leader of the political party and he is the overall coordinator of these different groups of militias and terrorists operating in Darfur, the Azawad Region of Mali, and Libya. There is another member of the same political party in charge of foreign relations. He coordinates activities with Saudi Arabia, Qatar, and Kuwait. There is also an organization called Defense and Development of Arabic Language in Chad working together with the above mentioned political party. They organize conferences and invite Arab governments and individuals from Gulf States to raise funds.
Our sources also said that they opened centers in different places in Darfur to teach French Language to their militia forces so that when they occupied Chad, Niger, and Mali they will not be having language problems.
About 5,000 Chadian rebels are currently completing their training with Libyan Islamic groups, possibly Fajir Libya, which the Sudan government supports. They are waiting for deployment. They moved this Chadian rebel force from Sudan to Libya between late July and August of 2016.
As of this report militias changed the name of Kutum, North Darfur to "Waha" and declared it a liberated area of Janjaweed, now renamed "Peace Force."
As an example of the brutality of this "Peace Force," there is a man called Dr. Abdallah who lives in Geinena, Western Darfur in charge of the Hakamas (women who sing war songs to encourage fighters). Reportedly, he has told the Janjaweed militias that no Hakamas will sing for anyone who did not kill one hundred people. Each militiaman must bring body parts for hundred people to allow Hakamas to sing for him.
Unleashing the attack on the Nuba Region
The Sudanese Government and militias have massed forces for an invasion of the Nuba Mountains in South Kordofan. There are upwards of 8 training camps in the area of Kordofan that have trained 15,000 international jihadists, about 2,000 trainees per camp. These mujahedeen are part of the invading force in Nuba. The majority of these mujahedeen are from Syria. Additional mujahedeen recruits are flooding into Sudan from the Middle East to join the proposed Caliphate to fight against the West. They believe they must cleanse the land of Abeed (black, indigenous, African) people. Abeed in Arabic means, "slave." When these jihadists have graduated training they will join the battle in the Nuba Mountains in order to accomplish ethnic cleansing of the land. After training these mujahedeen they will join the heavily armed Sudanese government force in Kordofan in December 2016 and January 2017 when the full Kordofan cleansing operation is scheduled to begin. 
Reports from Kadugli, Sudan, capitol city of Nuba Mountains indicate that the heavily armed militia now outnumbers the remaining citizens, approximately 500 people. Kadugli once hosted 300,000 inhabitants prior to the 2012 massacre by Sudan Armed Forces bombing raids. The current estimated population is approximately 94,000. The militia is there to build a factory to produce enough cyanide for Khartoum's gold production needs from deposits in the Nuba Mountains. The current push that began on November 24, 2016 is directed at ethnically cleansing the Umm Derien area. (See area 3 on the Nuba battle map above.) The remaining people have protested and been threatened by the militia with death. The Khartoum regime will likely order the militia push to 'neutralize' the protesters.
The Governor of the Nuba area requested help from the outside world, but only regime change will stop this latest proposed massacre in 2016.
Watch this 2012 You Tube Video of the tragic story of the Massacre in Kadugli.
Watch this Al Jazeera documentary on the 2012 genocidal in the Nuba Hills in South Kordofan with an interview with a Khartoum Regime official, a former Foreign Minister of Sudan contesting the rebellion by the SPLA-North: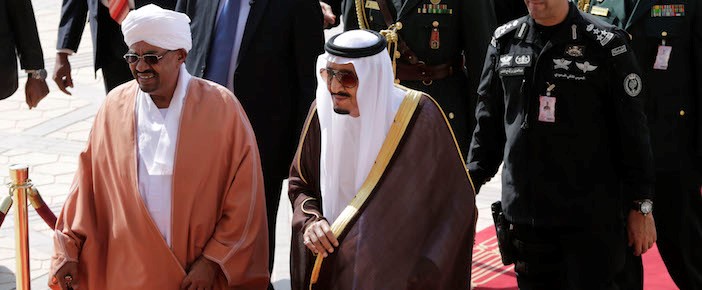 Sudan's President Omar Al-Bashir visits Saudi King Salman Riyadh November 2015
The Saudi Sudan Connections – Money for Switching Sides
One of the strategic aspects of this latest wave of ethnic cleansing in both the Darfur in Western Sudan and in the Nuba Mountains in South Kordofan is motivated by the exploitation of gold deposits. Further, we noted the backing of Saudi Arabia and Emeriti members of the Gulf Cooperation Council behind possible creation of a Caliphate in the Sahel region of Sub-Sahara Africa. 
There are several developments arising from the sudden switch of Sudan, as the only Sunni country in the horn of Africa, to have been a long-standing ally of the Shi'ite Islamic Republic of Iran. Iran had assisted the Sudan in creating a munitions industry. Sudan had facilitated transshipment of Iranian weapons to other Sunni proxies, Hamas and Palestinian Islamic Jihad in Gaza. That prompted periodic Israeli air attacks on convoys transiting from Port Sudan across Egypt's Sinai Peninsula, as well as interdiction of Iranian arms cargoes in the Red Sea.  Moreover, Sudan had been a major state supporter of terrorism providing training camps for Osama bin Laden. It had also previously supplied weapons for the Houthi insurgency in Yemen across the Bab al Mandab straits in the Red Sea.
Sudan faced onerous fiscal isolation caused by nearly 20 years of international sanctions, the loss of substantial oil revenues with the founding of the independent Republic of South Sudan and civil war there. Khartoum found itself in dire financial straits facing internal unrest and protests over its faltering economic policies. Military and security expenditures claimed fully 70 percent of Sudan's dwindling budget. What to do? 
The answer was to switch sides and opt for major Saudi financial support and investment in precious metals development both offshore in the Red Sea and on-shore in both North Darfur and the Nuba Mountains. That switch took place in 2014 when Sudan closed Iranian and Shia cultural centers in Khartoum. In 2015 the Bashir regime sent 6,000 troops with supporting aircraft to provide boots on the ground in the Saudi and GCC air campaign against the Iranian backed Houthi rebels. The Iran-supported Shi'ite Houthi had ousted the Yemeni government of Saudi ally, President Abdrabbuh Mansur Hadi. The Saudi Kingdom provided a $5 billion military aid package to Khartoum. Riyadh invested in the Atlantis II Red Sea bed mineral extraction project. It may produce a $20 billion profit for the Saudi Kingdom under its so-called modernization program aimed at reducing reliance of oil revenues. Riyadh further bolstered its financial support to both Djibouti and Somalia in the Horn of Africa.
Eleonora Ardemagni an international relations analyst of the Middle East, focused on Yemen and the GCC region, noted these developments in an April 2016 article published by The Arab Gulf States Institute in Washington, DC, "The Yemeni Factor in the Saudi Arabia Sudan Realignment." She summarized the financial benefits to Khartoum from switching sides:
The Saudi-Sudanese realignment is based on a "money for proxies" informal pact: external financial-military aid from Riyadh to Khartoum in exchange for direct military commitment of Sudanese troops for overseas operations. Such military interdependence has also boosted economic ties and joint projects between Sudan and Saudi Arabia, as well as other Arab Gulf states. This includes Sudanese gold production and the exploitation of offshore mineral resources in the Red Sea, where Saudi Arabia and Sudan share a common area, the Atlantis II joint venture. In 2015, the Sudanese central bank received $1 billion from Saudi Arabia and, previously, $1.22 billion dollars from Qatar. Riyadh and Abu Dhabi hosted the Saudi-Sudanese and the UAE-Sudanese Investment Forum, respectively. On November 2015, Saudi Arabia committed $1.7 billion for the building of three dams in northern Sudan, to be constructed within five years, plus $500 million for water and electricity projects and the cultivation of agricultural land in eastern Sudan.
With the influx of billions in Saudi and GCC funds, Khartoum now has the financial underwriting for its "final solution" for Darfur and South Kordofan giving it a free hand to exploit their gold deposits. Perhaps the long sought gold production in these regions might back its faltering currency. Moreover, the profits from joint ventures with the Saudis would aid in launching its mercenary Jihad Army to create a Caliphate across most of the Sahel region of sub–Sahara Africa. It also may have the Saudi Kingdom's support to intercede on its behalf to end the 20-year international sanctions regime. The Saudi and GCC backing may also effectively stifle the International Criminal Courts outstanding warrant for the arrest of Sudan's President for war crimes in Darfur. That has already happened with South Africa's refusal to arrest Bashir during a state visit and a recent announcement by the OAU that it is capable of trying dictatorial leaders of member countries for "crimes against humanity," as in the case of the former Chadian despotic leader. 
Conclusion
President Bashir and his NCP government members were hoping that Hillary Clinton was going to win the US Presidential election. If Clinton won, they believed that she would continue Obama's policies that embraced the Khartoum regime. However, President-elect Donald Trump surprised them. So they are preparing to quickly finish their operation between now and first 100 days of the Trump Administration following his inauguration on January 21, 2017. 
Sudan, Saudi Arabia, Kuwait, and Qatar are sources of financing terrorists that cause instability in Africa and the world. They are also the countries that currently cause instability in South Sudan, Mali, Niger, Chad, Nigeria, Cameroon, Libya, as well as the Sudan regions of Darfur, Kordofan, and Blue Nile. They pose a threat to international peace and security. Sudan's regime is playing the role of late Libyan Leader Gaddafi who destabilized Chad for more than thirty years in an attempt to expand Arab territory in Sub-Sahara Africa. We urge the international community, especially United States and countries that are fighting the global war on terrorism, to take seriously this SITREP and deal with the Islamist Sudan of indicted war criminal President Omar Bashir.   
---
[1] Lt. Gen. Abdallah is Chairman of the Sudan Unity Movement. He is a native of North Darfur who joined the Sudan Liberation People's Army (SPLA) in 1984 and became active in the Nuba Hills and Darfurian resistance. In 1989 he joined the Patriotic Salvation Movement in neighboring Chad based in Darfur. He served as an officer in the Chadian army for 23 years. He held senior intelligence and counterterrorism posts including as Coordinator of the Multi-National Joint Task Force of Nigeria, Chad and Niger. He is a December 2002 graduate of the Intelligence Officers' Advanced and Combating Terrorism Courses, US Army Intelligence Center and Schools, Fort Huachuca, Arizona. He was a Graduate Terrorism Fellow and is a Graduate of the College of International Security Affairs, National Defense University, Washington, DC, 2005. He was an International Fellow and Graduate of the US Army War College, Class of 2008.
[2] Deborah Martin is a long-term American Sudan human rights advocate having lived in both North and South Sudan conducting development projects as a professional engineer and linguist in a team with her late husband. She has worked on research linguistics of Jieeng, Nuer, Bari, Jumjum, Masalit, Nubian, Luwo, Reel, Madi and Moro.
 
_____________________________________
Also see Jerry Gordon's collection of interviews, The West Speaks.
To comment on this article, or to share on social media please click here.
To help New English Review continue to publish timely and interesting articles like this one, please click here.
If you have enjoyed this article and want to read more by Jerry Gordon, please click here
.
Jerry Gordon is a also regular contributor to our community blog. To read his entries, please click here.