Tackling so-called 'blasphemy violence' will be a key recommendation in the long-awaited report on Prevent, the Government's flagship counter-terrorism programme, The Mail on Sunday can reveal.
The report, by former Charity Commission chief William Shawcross, will urge Prevent teams to tackle imams and Muslim leaders who accuse teachers, writers and others of blasphemy.
It is the first time that an official Prevent report will identify Islamic 'blasphemy violence' as an extremist problem in Britain.
A teacher at Batley Grammar School in West Yorkshire had to go into hiding with his family after he showed his class drawings of the Prophet Muhammad in 2021. . . Last year, after Islamic groups protested about the film Lady Of Heaven, its executive producer Malik Shlibak received death threats and cinema chain Cineworld stopped showing it amid fears for staff safety.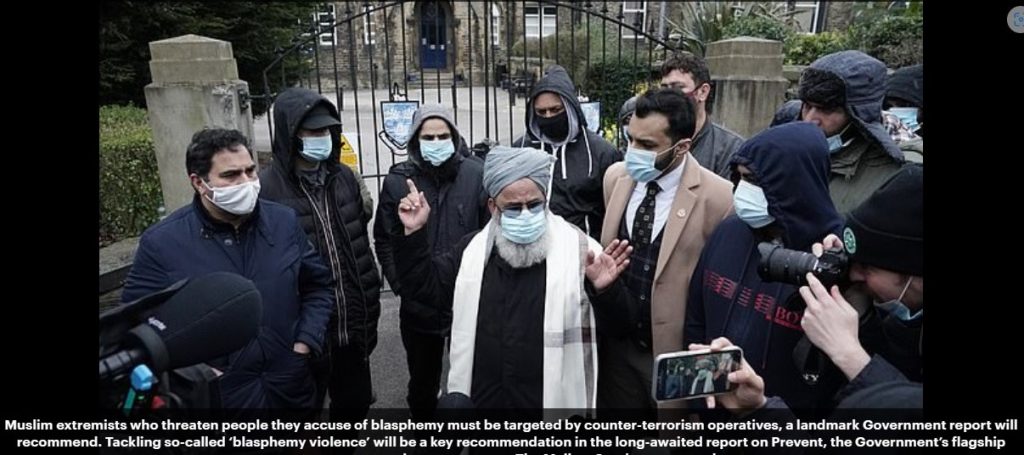 One well-placed source said: 'After the Batley incident, the cinema row, the killing of Samuel Paty, we saw Salman Rushdie getting attacked in the US. This means this blasphemy issue needs to be addressed.'
The source said that if a pupil says blasphemy carries the death sentence in Islam, and shows other signs of extremism, that student is likely to be referred to Prevent, under the new proposal.
The overhaul of Prevent has been delayed by 'woke' civil servants who have objected to suspected extremists being named in the Shawcross report.
Mr Shawcross will recommend that Prevent goes back to its core principle of stopping individuals becoming terrorists, and not be an 'arm of social services'. He will also say that those prone to extremism are no longer referred to as 'vulnerable', but 'susceptible'. A source said: 'This is important, as 'vulnerable' implies being a passive victim.'
It will also be recommended that Border Force, immigration and Job Centre staff be added to the list of those required to report to Prevent someone they suspect of harbouring extreme views.