From the Times and The Telegraph Photograph Reuters via the BBC
Egyptian police killed 40 suspected terrorists in three co-ordinated gun battles on Saturday after a deadly attack on a coach carrying tourists to the Great Pyramids of Giza.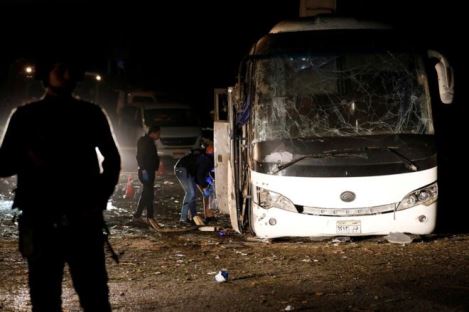 A roadside bomb killed three Vietnamese tourists and their local guide on Friday night in the first murderous attack on foreign tourists in more than a year in Egypt. The tourist bus that was attacked on Friday had been heading to a sound and light show at Giza. (I have done that myself – over 30 years ago. I'm glad I visited Cairo when I did, short as the visit was. No way would I set foot there again now. )
Two raids in the Giza governorate killed 30 "terrorists", while the remaining 10 were killed in the North Sinai, the Egyptian interior ministry said in a statement. 
It said the authorities took action after receiving a tip-off about the suspects preparing a series of attacks against state buildings, tourist attractions and churches. "Information was received by the national security that a group of terrorists were planning to carry out a series of aggressive attacks targeting state institutions, particularly economic ones, as well as tourism, armed forces, police and Christian places of worship," the statement said.
Early on Friday evening, a roadside bomb hit a tour bus in the Al-Haram district near the Giza pyramids. A statement from the public prosecutor's office said 11 other tourists from Vietnam and an Egyptian bus driver were wounded. There was no immediate claim of responsibility for the bombing, the first attack to target tourists since 2017.
The attack came as Egypt's vital tourism industry is showing signs of recovery after years in the doldrums due to political turmoil and violence that followed a 2011 uprising that toppled former leader Hosni Mubarak. Egypt has been planning to open a museum near the Giza pyramids and has recently bolstered security around archaeological sites and in airports. It will likely prompt authorities to tighten security around churches and associated facilities ahead of the New Year's Eve celebrations and next month's Christmas celebrations of the Coptic Orthodox Church, the dominant denomination among Egypt's estimated 10 million Christians.