From the French edition of the Local and Expatica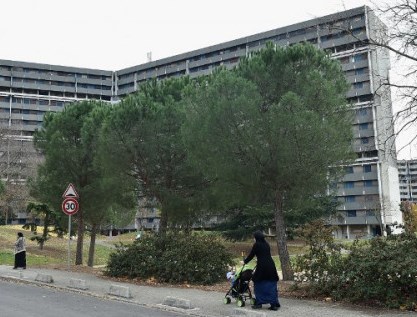 Angry youths in a deprived area of the French city of Toulouse have attacked police, torched cars and set fire to garbage during two nights of clashes that have led to 18 arrests, police said Tuesday.
The rioting in the Mirail area of the southern city, a high-crime neighbourhood once home to several jihadists, was apparently sparked by the death of a local man in prison and an identity check by police on a veiled woman on Sunday. A judicial investigation is underway, local prosecutors said, adding that  an autopsy had found that suicide was the cause of the death. Local police chief Arnaud Bavois said that an identity check on a fully  veiled woman on Sunday exacerbated the tensions after she refused to show her papers to officers.
The police were called at 5pm to a woman who was engaged in using some sports equipment. They asked to check her identity, she could only produce a poor photocopy of her National Identity card and when police asked her to removed her niqab she refused and began screaming. She was arrested and placed in the police vehicle, at which point a mob 30 strong appeared and attacked the police, throwing projectiles. 
After nearly four hours of clashes on Sunday night that saw gangs throw stones at the local police station and set fire to about 10 cars, violence flared again on Monday night.
"Security forces were targeted throughout the night and carried out 18 arrests for violence, arson and insults," a statement from top local security official Pascal Mailhos said.