ISIS has called on militants to carry out atrocities at Christmas markets in the UK, Germany and France, according to reports. Extremists are said to be circulating chilling posters via messaging apps that include the phrase "soon on your holidays" in English, German and French. The picture of Father Christmas bound and about to be beheaded is set in London's Regent Street, but the Christmas lights are those of 2010. Regent Street and Oxford Street cross, and Oxford Street underground station is at the crossroads; you can understand why people get jittery, although we never did so much during 30 years of IRA bombing. I suppose we didn't have twitter winding us up in those days and the IRA never did suicide missions or spraying passersby with gunfire. 
The images were intercepted by BlackOps Cyber, a dark web intelligence agency, several days ago, the Epoch Times reported.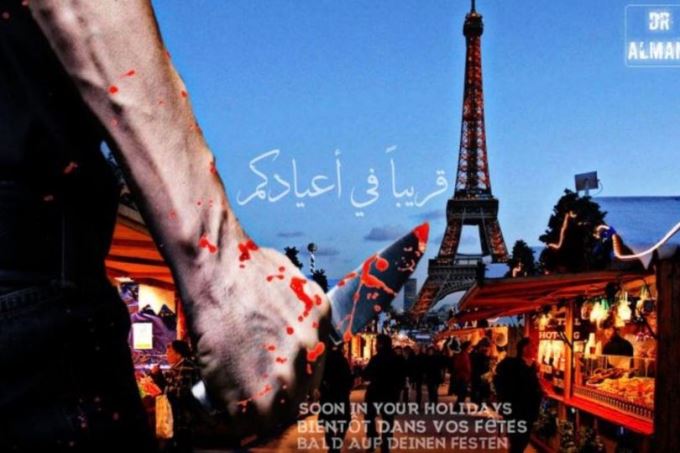 The latest images come after six Syrians suspected of planning an attack using weapons or explosives in Germany were detained on Tuesday. Prosecutors said the planned attack was on behalf of the Islamic State militant group.
This year, armed police, large concrete barriers and stop and search checks are being carried out at festive markets up and down the UK as many opened to the public last week.
Organisers of popular Christmas markets, such as London and Manchester, have been putting staff through anti-terror training with police as part of Project Griffin – a counter-terrorism initiative where business personnel learn what to look out for and how to deal with the aftermath of an attack.
The extra measures follow advice from the Department for Transport to local authorities about "mitigating security vulnerabilities" around major public transport hubs, including "hostile vehicle mitigation" to deter attackers using "vehicles as a weapon".
Birmingham Christmas market will also see a host of new measures installed including bollards due to the threat of threat of vehicle attacks.